INDEX
Seasons
1902 1903 1904
1905 1906 1907 1908 1909 1910
1911 1912 1913
1914 1915 1916 1917 1918 1919
1921 1922 1923
1924 1925 1926 1927 1928 1929
1930 1931 1932
1933 1934 1935 1936 1937 1938
1939
1940 1941 1942
1943 1944 1945 1946 1947 1948
1949
1950 1951 1952
1953 1954 1955 1956 1957 1958
1959
1960 1961 1962
1963 1964 1965 1966 1967 1968
1969
1970 1971 1972
1973 1974 1975 1976 1977 1978
1979
1980 1981 1982
1983 1984 1985 1986 1987 1988
 1989
1990 1991 1992
1993 1994 1995 1996 1997 1998
1999
2000 2001 2002
2003 2004 2005 2006 2007 2008
 2009
2010 2011 2012
2013 2014 2015 2016 2017 2018
2019
2020 2021 2022
2023 2024 2025 2026 2027 2028
   2029
Miscellaneous
Foreword 1
Foreword II
Introduction
The Ad
The Letter
The Test
First Newsletter
Yesterday
Gold
Origins

<![if !supportLineBreakNewLine]>
<![endif]>
Mahley Division

W

L

GB

McCorkindale Division

W

L

GB

Long Island

Islanders

108

44

…

Mexicali

Mallards

95

59

…

So. Starrucca

Ainspans

94

59

14.5

Cleveland

Naps

86

68

9.0

Hyde Park

Vitamen

75

78

33.5

Bradenton

Buckeyes

73

81

22.0

Boston

Beaneaters

51

103

58.0

Bergen

Barflies

56

98

39.0

Kirwin Division

W

L

GB

Seitz Division

W

L

GB

Newton

Buccs

91

63

…

Hereford

Highlanders

84

70

…

Mimosa

Mirthmakers

81

73

10.0

Turin

Mountaineers

82

72

2.0

Grand Rapids

Wolverines

67

87

24.0

Wilderness

Wraiths

74

80

10.0

Waukesha

Freemen

59

95

32.0

Buffalo

Mules

54

100

30.0
Comments-
Bob Wood –
<![if !vml]>
<![endif]><![if !vml]>
<![endif]><![if !vml]>
<![endif]>
For the third consecutive season, Nap LaJoie (BR) led all 2nd basemen in fielding pct, allowing him to win his 2nd gold glove (Dick Padden (GW) and Tom Daley (HP) used their range in 1902 to win the first award). Nap finished with 19 points in the voting, although Padden again led the league in range, finishing 3rd in the voting with 14 points, tied with Jimmy Farrell (TU) and just behind Claude Ritchey (MI), who had 16 points. Jimmy Williams (ME, 13) and Hobe Ferris (NB, 10) also cracked double digits in voting. Others gathering support were Billy Gilbert (BS, 9), Danny Murphy (SO, 5), 1901 winner Padden (GW, 4), Kid Gleason (LI, 3), Johnny Evers (CL, 2) and Barry McCormick (HH, 1).
<![if !vml]>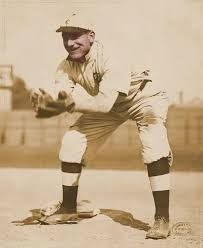 <![endif]>
Lave Cross (WA) also won his 2nd Gold Glove, repeating his 1902 performance at 3rd base, with a 19 total. Defending champion Jimmy Collins (GW) was runner-up this time with 15 points, tied with Doc Casey (LI). Bill Bradley (TU, 11), Harry Wolverton (HP, 11) and George Moriarty (BU, 10) also registered double digit totals. Ed Gremminger (NB, 8), Sammy Strang (HH, 6), Tommie Leach (BS, 4), Woody Wood (BR, 4), Dave Brain (BE, 3), Billy Coughlin (MI, 2) and Billy Lauder (SO, 2) also drew votes.
<![if !vml]>
<![endif]> Cross Collins <![if !vml]>
<![endif]>
Bill Dahlen (GW), who won the 1902 Gold Glove, picked up his 2nd award at shortstop with an 18 point total, edging Kid Elberfeld (BR, 16). Monte Cross (ME, 12), Sport McAllister (BS, 10), Fred Parent (SO, 10) also acuumulated double digit voting totals. 1903 Gold Glover Bobby Wallace (HP) had 8 votes. Champ Osteen (MI, 7), Tim Corcoran (LI, 6), Tex Smith (MI, 6), Honus Wagner (WA, 6), Charlie Babb (WW, 4), Jack Dunn (HH, 4), Joe Tinker (NB, 2) and Herman Smith (CL, 1) also attracted votes.
<![if !vml]>
<![endif]>
The LF honors went to Kip Selbach (BE) with a 19 vote total, dominating thee race. Buck Freeman (GW) and Dave Fultz (NB) tied for 2nd place with 13 votes apiece, while Charlie Hemphill (CL, 11) and Nixey Callahan (BS, 10) drew strong support. Jesse Burkett (HH, 9), John Anderson (MI, 9), Hughie Jennings (WW, 8), George Barclay (WA, 7), Jack McCarthy (TU, 4), George Browne (LI, 4), Cy Seymour (BR, 2) and Turkey Mike Donlin (BU, 1) also drew some votes.
<![if !vml]>
<![endif]>
Billy Lush (LI) and Harry Bay (HH) finished 1-2 and 2-1 in Range and Pct to share the CF honors with 19 point vote totals. Duff Cooley (ME, 15) and Ginger Beaumont (NB, 13) drew strong support. Jimmy Ryan (WW) and Davey Jones (SO) tied with 8 votes apiece. Sam Crawford (GW, 6), Jimmy Barrett (HP, 5), Emmett Heidrick (TU, 5), Lefty Davis (WA, 5), Topsy Hartsel BS, 3), Jimmy Slagle (BU, 2), Elmer Flick (LI, 1) and Fred Clarke (MI, 1) drew the remaining votes.
<![if !vml]>
<![endif]> <![if !vml]>
<![endif]>
Cleveland's Herm McFarland won the Glove in RF, narrowly edging Fielder Jones (BU) by one vote, 16-15. Roy Thomas (LI) and Cozy Dolan (MI) just missed the honor, with 13 votes apiece. Sam Mertes (NB, 12) and Range leader Jimmy Sheckard (HP, 10) also had strong support. Others considered included Socks Seybold (BE, 8), Ollie Pickering (HH, 5), George Merritt (WA, 5), Patsy Dougherty (ME, 4), Roger Bresnahan (WW, 3), Danny Green (TU, 3), Ducky Holmes (GW, 2) and Jimmy Sebring (SO, 1)
<![if !vml]>
<![endif]>
The 1st base award was earned by John Ganzel, who fielded .996 for Long Island. Dan McGann's .994 (NB) matched that of Candy LaChance (TU) for runner up. Kitty Bransfield (BS, .993), Klondike Douglass (MI, .992), Jack Doyle (SO, .992), Frank Isbell (WA, .991), Frank Chance (ME, .989), Harry Davis (HH, .989) and Charlie Hickman (BE, .987) completed the top 10.
<![if !vml]>
<![endif]>
Ossie Schrenkengost repeated his Gold Glove with a 19 point total behind the plate for Mexicali. Pat Moran (HH) was runner-up with 16 points. 1903 co-winner Johnny Kling (WA) had 15 points. 1902 winner Malachi Kittridge (ME) and Fred Abbott (NB) had 11 points apiece. Mike Powers (LI) also had double digit support (10 points). Jack Warner (HP) and Jack O'Neill (WA) each had 9 point totals. Rounding out the field were Heinie Pietz (SO, 4), Harry Bemis (GW, 3), Bill Bergen (CL, 2) and Monte Beville (WW, 1).
<![if !vml]>
<![endif]>
The most amazing winner, though, was our mounds man. Only two pitchers were error-free for the entire season. Mallard Bill Reidy handled 41 chances without error, but placed 2nd in the voting to Cleveland's Player Manager Roy Hobbs whose perfect 45 chances won the Gold Glove!
Other top fielding pitchers included Willie Sudhoff (MI, .990), Vic Willis (HH, .988), Bob Ewing (LI, .985), Bill Bernhard (CL, .984), Doc White (LI, .977), Joe Yeager (GW, .977), Jock Menefee (WW, .975) and Sam Leever (NB, .974)
<![if !vml]>
<![endif]> <![if !vml]>
<![endif]>