INDEX
Seasons
1902 1903 1904
1905 1906 1907 1908 1909 1910
1911 1912 1913
1914 1915 1916 1917 1918 1919
1921 1922 1923
1924 1925 1926 1927 1928 1929
1930 1931 1932
1933 1934 1935 1936 1937 1938
1939
1940 1941 1942
1943 1944 1945 1946 1947 1948
1949
1950 1951 1952
1953 1954 1955 1956 1957 1958
1959
1960 1961 1962
1963 1964 1965 1966 1967 1968
1969
1970 1971 1972
1973 1974 1975 1976 1977 1978
1979
1980 1981 1982
1983 1984 1985 1986 1987 1988
 1989
1990 1991 1992
1993 1994 1995 1996 1997 1998
1999
2000 2001 2002
2003 2004 2005 2006 2007 2008
 2009
2010 2011 2012
2013 2014 2015 2016 2017 2018
  2019
2020 2021 2022
2023 2024 2025 2026 2027 2028
   2029
Miscellaneous
Foreword 1
Foreword II
Introduction
The Ad
The Letter
The Test
First Newsletter
Yesterday
Gold
Origins
Eastern

Western

Greylock

98

64

...

Rockford

113

49

...

Sterling

98

64

...

Long Island

98

64

15

Hyde Park

85

73

11

Harbor Beach

82

80

31

San Francisco

86

76

12

Evanston

77

85

36

Connecticut

60

102

38

Rolling Meadow

74

88

39

Northeast

56

106

42

Bradenton

59

102

33

Central

Bergen

102

59

...

Shiloh

95

67

7.5

Norfolk

85

77

18

Meadowlands

77

85

26

Morgantown

73

89

30

Ruskin

72

90

31

Santa Barbara

43

119

60
Dan Warren - Jim McEneaney's wildcard Long Islanders knocked off Stu McCorkindale's Barflies. Eastern Division champ (on a tie breaker) Greylock topped Rockford and the Islanders en route to not only the AL Championship, but also a victory over the Manchester Whalers to gain the TCBA Championship.
Shiloh's Rod Carew turned in the league's first .400 season, a spectacular .437, far outclassing Pete Rose's .376. San Francisco's George Foster set league records with 62 home runs and 170 RBI.
There were eight 20-game winners, despite the batting heroics. Steve Carlton (29), Jim Palmer (26), Phil Niekro (23), Rick Reuschel (22), John Candelaria (20), Mike Torrez (20), Dennis Leonard (20), and Frank Tanana (20). Norfolk's Jim Rooker tossed a no-hitter against Bradenton.
Another familiar name joined the managerial ranks, as Larry Smith's Mimosa Mirth Makers replaced Bob Moore's Shiloh Spurs. Marty Fiehl started a couple of years' sabbatical, Bob Braun bemoaned his 1975 trade of Carlton Fisk for George Mitterwald, and Bob Wood bragged about getting Foster from Greylock.
Stu McCorkindale acquired Ron Guidry for $104,000. Pitcher Mark Lemongello (who received 8 bids???) went for $106,000 to Harbor Beach (ed. note: so Dick Gorney wasn't perfect after all!); and Eddie Murray for $111,000 to Connecticut. On the other hand, Dennis Martinez, still active in 1995, went to Ruskin for $33,000. Frank Tedeschi paid $13,000 for somebody named Thormodsgard. (ed. note: We told you he wasn't qualified!)
Jim McEneaney - Buoyed by trade acquisitions Bill Buckner, Lyman Bostock, Mickey Rivers, Ted Sizemore, and Gary Lavelle, and rookie outfielder Andre Dawson, the Isles emerged from the ashes of the previous season's cellar-dwelling finish to capture a wildcard berth in their first full season of existence. In their very first playoff series, Long Island rallied from a 3-0 game deficit to stun Bergen in the AL semi-finals before bowing out in 7 games to the Greylock Gators.
Fiehl Facts - League founder Jim Lafargue defects to the American League to start off the season. Mr. Lafargue made some comment about wanting to get to know the AL managers better. I sure hope he wasn't disappointed.
Bob Braun -
AINSPAN
I first became aware of Marty Fiehl during our first year in TCBA, when I was a long-haired hippie in the Health Food store, and Marty was a skinny 19-year old kid. He wrote me a letter in that dreadful handwriting of his; pencil scrawled on yellow paper. A charter member of TCBA, he guessed that I might be a Mets fan; took a chance - and made a friend for life. From that simple beginning has developed a special friendship, one that has gone beyond the basic boundaries of baseball.
My daughter Sarah was six months old when we traveled to Binghamton for my first visit to Fiehl-dom, meeting Mother Fiehl, and Frank Tedeschi. Marty had this rubber alligator named Ainspan, his team mascot, that he gave to Sarah. She took to it right away, loving to chew on Ainspan's long green tail. Somehow that alligator survived Sarah (now a college student) and a cyclone named David (a first round draft choice in 1981). Ainspan's got a broken jaw and a bobbed tail now, but his spirit is alive and well. Ainspan is a very special name in our family mythology, and both of my children have grown to appreciate the generosity and delightful humor that is Marty Fiehl.
The paths of fate that brought Marty and I together were well marked by founder Jim Lafargue. TCBA has evolved far beyond its original purpose; far beyond our ability to comprehend. It continues to be a memorable experience, creating complex, lifelong friendships out of a simple game called baseball.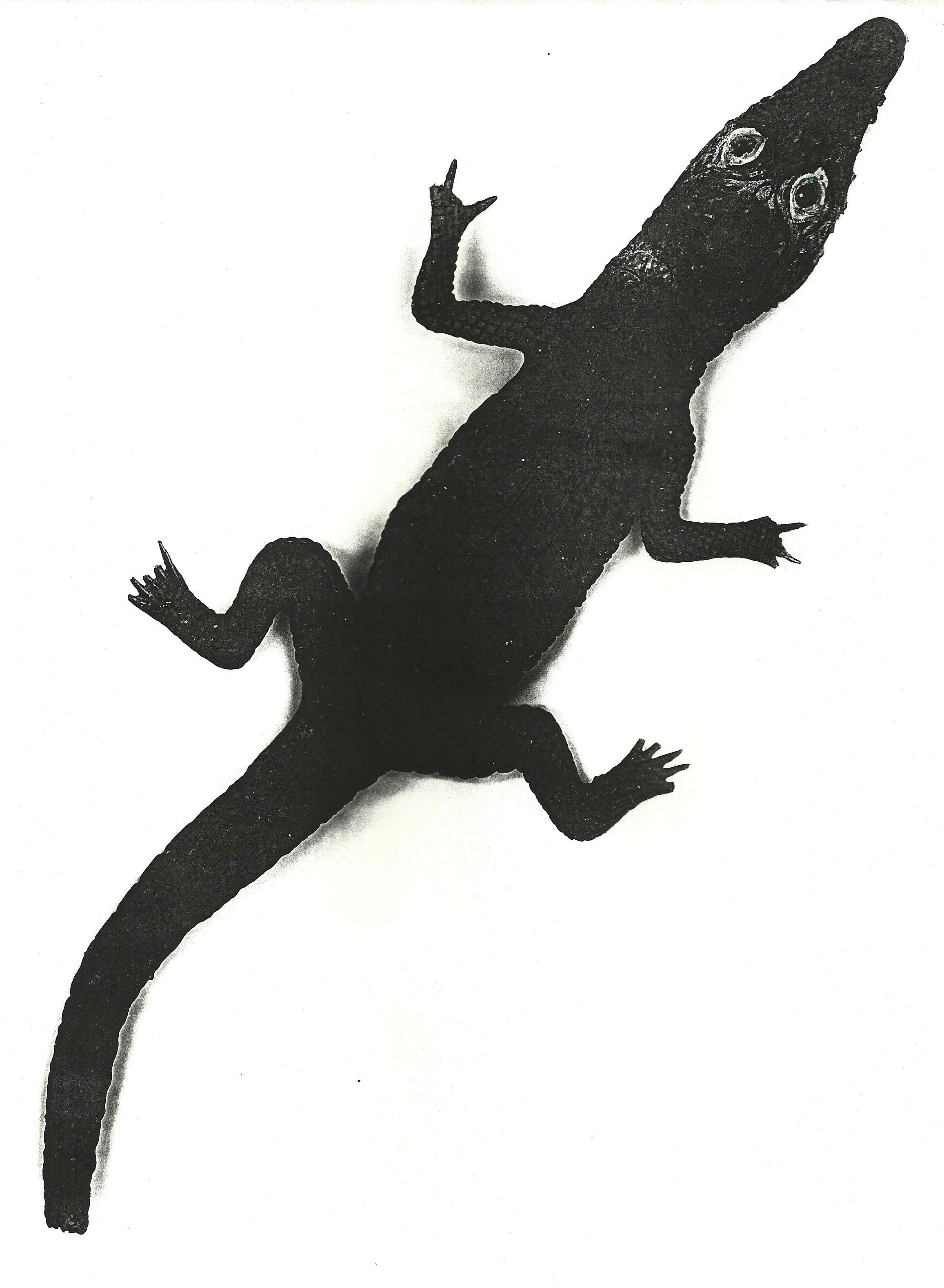 Ainspan in Silhouette