INDEX
Seasons
1902 1903 1904
1905 1906 1907 1908 1909 1910
1911 1912 1913
1914 1915 1916 1917 1918 1919
1921 1922 1923
1924 1925 1926 1927 1928 1929
1930 1931 1932
1933 1934 1935 1936 1937 1938
1939
1940 1941 1942
1943 1944 1945 1946 1947 1948
1949
1950 1951 1952
1953 1954 1955 1956 1957 1958
1959
1960 1961 1962
1963 1964 1965 1966 1967 1968
1969
1970 1971 1972
1973 1974 1975 1976 1977 1978
1979
1980 1981 1982
1983 1984 1985 1986 1987 1988
 1989
1990 1991 1992
1993 1994 1995 1996 1997 1998
1999
2000 2001 2002
2003 2004 2005 2006 2007 2008
 2009
2010 2011 2012
2013 2014 2015 2016 2017 2018
  2019
2020 2021 2022
2023 2024 2025 2026 2027 2028
   2029
Miscellaneous
Foreword 1
Foreword II
Introduction
The Ad
The Letter
The Test
First Newsletter
Yesterday
Gold
Origins
Mahley Division

W

L

GB

McCorkindale Division

W

L

GB

So. Starrucca

Ainspans

98

56

…

Bergen

Barflies

88

66

…

Cleveland

Spiders

85

69

13.0

Cleveland

Naps

87

67

1.0

Hyde Park

Vitamen

49

105

49.0

Bradenton

Buckeyes

83

71

5.0

Long Island

Islanders

37

117

61.0

Mexicali

Mallards

69

85

19.0

Kirwin Division

W

L

GB

Seitz Division

W

L

GB

Mimosa

Mirthmakers

96

58

…

Buffalo

Mules

86

68

…

Grand Rapids

Wolverines

92

62

4.0

Turin

Mountaineers

79

75

4.0

Waukesha

Freemen

85

69

11.0

London

Tecumsehs

66

88

20.0

Pittsburgh

Rebels

79

75

17.0

Hereford

Highlanders

53

101

33.0

<![if !supportMisalignedColumns]>
<![endif]>

Larry Smith –
<![if !vml]>
<![endif]>
Gerry Hobbs – (Reporting a series between his Cleveland Naps and Bob Wood's Bradenton Buckeyes)
The runners take their lead ... he brings it home ... popped a mile high ... the runners are moving;
Wood moves under it ... and it hits him right on top of the head! ... the ball rolls away
it's all over! ... TENNEY scores
Buckeyes 1, Naps 2
Bob Wood - Old Woody Wood - always using his head ....
Al Keefer (reporting on a Waukesha-Mexicali series) –
Game #2: This was one to remember as both pitchers were on their games. Addie Joss threw 17 innings of no-hit ball for Waukesha, while the Mallards' Lew Moren went 15 innings, giving up 4 hits and 7 walks, but 0 runs. He was helped by the Mallard catcher, Boss Schmidt, who threw out 7 of 8 Freemen trying to steal. Suggs came on to pitch for Mexicali in the 15th and pitched into the 18th, not allowing a run. When the Mallards came to bat in the bottom of the 18th, Dougherty reached on a Honus Wagner error, and Frank Chance (followed with) the Mallards first and only hit of the game, a run scoring triple, for a 1-0 Mexicali win.
WP-Suggs (3-0) LP-Joss (15-3)
<![if !vml]>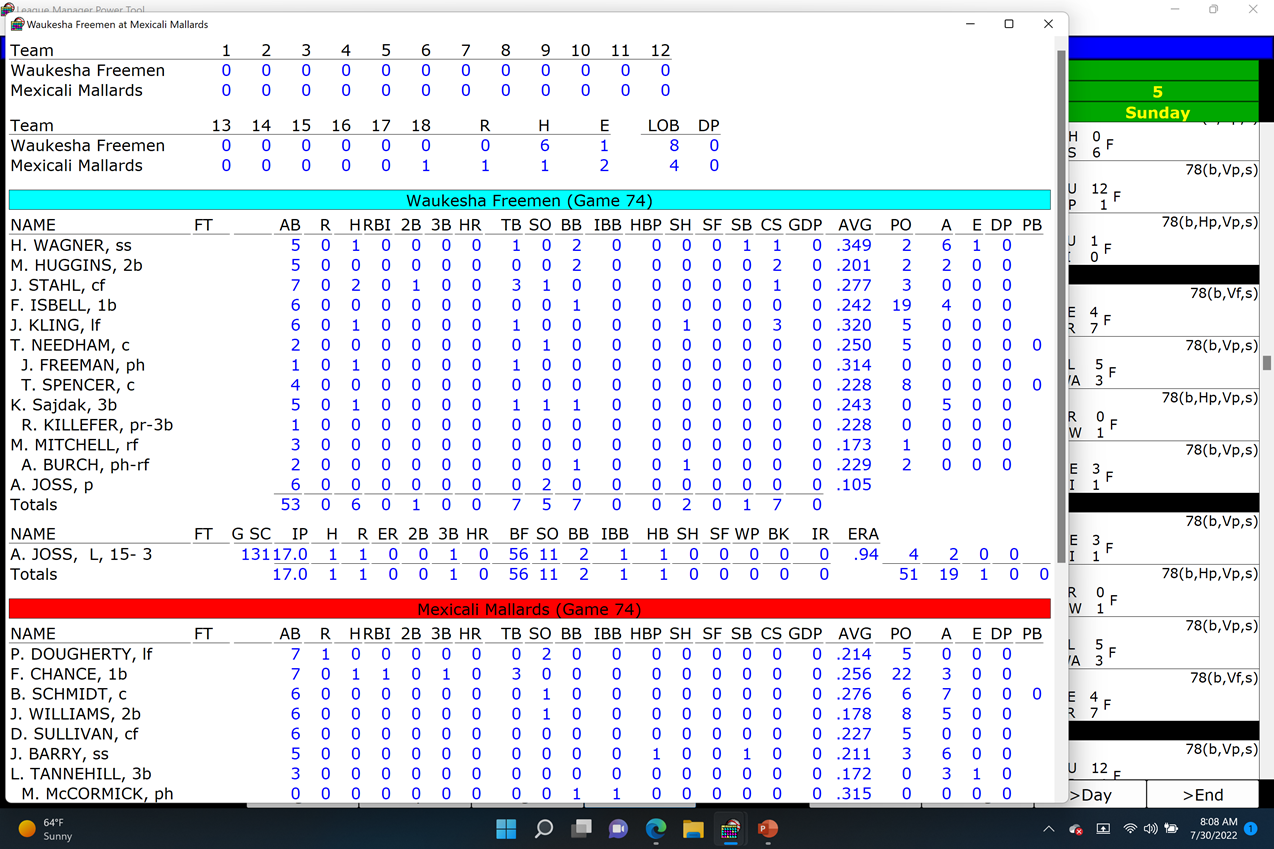 <![endif]>
World Series – Mimosa defeated Buffalo 4 games to 2.