Metro Division

Capitol Division

Eastport

92

40

…

Innisfree

93

39

…

Beacon

84

48

8.0

Edinburgh

82

50

11.0

Bethesda

58

74

34.0

Silver Spring

65

67

28.0

Long Island

52

80

40.0

Gunpowder

62

70

31.0

Scranton

50

82

42.0

Hamilton

62

70

31.0

Newark

47

85

45.0

Hereford

38

94

55.0

Central Division

Atlantic Division

Waukesha

77

55

…

Farmington

90

42

…

Bradenton

75

57

2.0

West Coast

80

52

10.0

Morgantown

67

65

10.0

Fargo

78

54

12.0

Evanston

63

69

14.0

Hilton Head

69

63

21.0

Mimosa

45

87

32.0

Rochester

64

68

26.0

Horseshoe Bay

37

95

40.0

Arlington

54

78

36.0
Comments –
JR Richardson (reporting play-off results) – I'd have never guessed it, especially after losing Garver, but Rochester took 4 straight in Games 2 through 5, holding Edinburgh to 4 total runs in those 4 games. The Scotsmen were the better team, but sometimes the bats just go cold.
But hey: both of our wives gave birth to strapping young lads about a month later, so really we both won. 🙂
<![if !vml]>
<![endif]>
James MacEachern – Not a bad consolation prize at all.
<![if !vml]>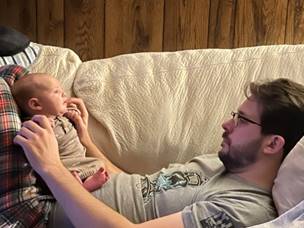 <![endif]>
And then there was Otto…
Marty Fiehl -
-<![if !vml]>
<![endif]>
Otto Martin Fiehl burst onto the playing field, last night, at 3:27 a.m.
Drafted out of Ithaca NY, at a midwifery, and tested drug-free, we are looking for a long career from this guy, probably as a firstbaseman, if Fiehl DNA is in play.
(7 lbs 15 ounces at 20 inches.)
After about 32 hours of labor, Alex looks pretty chipper in the pic above.
Wait'll the Novocain wears off and he starts to feel the episiotomy!
I've been a Grandpa for less than 12 hours now, but already feeling cranky. I've gotta go yell at some kids throwing snowballs in the street. They can put somebody's eye out with those things!
Meanwhile, Winter 2021 rages:
Scott Brown - We were in cozy CA on Friday, Feb 12 but we needed to get to TX because we had furniture being delivered and the airlines had changed the flying rules for our French bulldog so we had to DRIVE.  So we left Saturday morning and made 800 miles the first day into El Paso.  So with 520 miles remaining it seemed like a piece of cake.  When we woke on Sunday to snow flurries I was a tad concerned.  We had been checking the weather but honestly in Texas, they forecast snow and 90% of the time it just gets cold.  Well, obviously this was the other 10% of the time.
Cynde has never driven in ice or snow so I got the captains seat for the drive which ended up taking 13 hours.  The last few hours of the drive we discussed how awesome it would feel to get into the warm house.  So we pulled in at 9pm on Sunday night.  I leave our thermostats set to keep the house from getting too cold or too hot.  I was concerned when we walked into a house that was very cold and when I looked at the thermostat said 40 degrees INSIDE the house.  I checked the thermostat and it was still set where I left it.  I thought well let me turn the fireplace on to warm things up while I figure this out.  We have a 300 gallon propane tank that provides gas to the house.  We have only been in the house for a month so it never occurred to me we could be out of propane.  Well, turns out our cheap builder only partially filled the propane tank.  That may be fine but he should have said so so we could fill it. 
So we put 7 blankets on the bed, dressed in layers and went to bed.  I contacted our builder Monday morning and he said the central A/C runs off the propane as does hot water.  I called the propane company immediately and they were closed for President's day.  So another day of no hot water, no heat and no fireplace.  The snow had dropped a load on us overnight so everything was shut down.  With our pork rice thinking caps on we felt we could resolve everything Tuesday and so just had to get through another day.  I had 2 other problems.  I needed to get a source of heat into the house which would require me to head out into this storm AND I was almost out of gas from the 13 hour drive Sunday.  So I headed out knowing the gas station wasn't far.  So I pulled into the gas station in fumes and saw the "out of gas" sign.  So do I head back or go on to the next gas station.  I decided I needed to get heat for Cynde so chose to go on.  I pulled into the next station and was delighted to see no sign.  I got out to pump the gas and noticed the lights on the machine were off... no gas.  Now I was too far from home to turn back and knew of one other fairly close.  I figured I would either run out of gas and need picked up or run out of gas trying to get back to the house and need picked up.  So I went on to the third station.  Thankfully, it was open with gas!  Now with a full tank of gas I headed into Marble falls to go to Home Depot to get a couple space heaters.  As I walk in I hear a Home Depot representative say "we have no heat supplies left in the entire store."  I tried 3 other places which were either closed for President's day or out of any heating element.  When I got back home we decided to have Cynde's daughter pick up 2 space heaters to fed ex to us for Tuesday delivery.
On Tuesday the rolling power outages started so now we were down to no electricity on top of everything else.  I got the propane company on the line and learned they would not be able to get to us until Thursday.  We are pure amateurs at this type weather and wondered what to do.  Then in the spirit of it can and will only get worse the water shut off.  But we had the space heaters arriving by noon so we were optimistic.  We kept checking the tracking and as noon came and went the tracking changes to "by end of day".  Well, end of day came and went and temps were set to drop to 7 degrees that night.
Wednesday is a bit of a blur but we learned Fed Ex wouldn't make it.  We were running out of food because we had been in CA 2 weeks prior to driving to Texas.  There is a local market that announced they would be open for 4 hours Wednesday so we headed there to fill up.  So while it was nice of them to open, no deliveries had been made so the pickings were quite thin.  We got enough to survive though and headed back home.  We decided we couldn't spend another night in the freezing house and so called to get a hotel room.  Again in the spirit of it can only get worse, none of the hotels were open due to no power.  So we braces ourselves for another bitter night of cold.
Thursday was the day propane had said we would get filled so we woke up excited.  I called to see what time they would arrive only to find out they couldn't make deliveries due to the ice and their supplier was shut down as well and they thought it could be a week or more before they could.  Another day of no help.
By Friday we were just in survival mode but got the first hint of positive news as we got word that the la Quinta in Marble Falls had opened and had power.  We grabbed a room and headed over to feel the first heat in 5 days.  It was quite the celebration when we got into our warm room!
By Saturday things were starting to clear and the end was in site.  Almost as a numerous joke, the fed ex with the space heaters arrived Saturday morning.  We also got a call from the propane company that they were rationing propane and would deliver 100 gallons that day.  They arrived at 7pm and while it was great to now have propane.  It turned out getting things working again wasn't that easy.  It was a new house to us so we had to learn all these things.  We plugged in our space heater for the night and decided we would resolve everything the next morning.
It took a while, but by mid-day Sunday we had everything operational again.  Whew!
Frank Tedeschi – Holy crap!
Marty Fiehl – Holy crap (squared)!
Back to the Rookies –
<![if !vml]>
<![endif]>
Grandpa Fiehl with Otto