Metro Division

Eastern Division

Newark

105

56

...

Bethesda

103

59

...

Hoboken

95

67

10.5

Birdsnest

93

69

10

Beacon

81

80

24

Norfolk

78

83

24.5

Scranton

71

91

34.5

Silver Spring

73

88

29.5

Long Island

67

95

38.5

Annandale

72

90

31

Central Division

Western Division

Mimosa

98

64

...

Bergen

77

85

...

Evanston

94

68

4

New York

72

90

5

Morgantown

87

74

10.5

Binghamton

72

90

5

Horseshoe Bay

84

78

14

Gettysburg

68

93

8.5

Bradenton

71

90

26.5

Kennett

55

106

21.5
<< Previous • Next >>
<![if !supportLineBreakNewLine]>
<![endif]>
Dan Warren - Jim Pertierra's New York squad replaced Joe Shabot's Village Bluenotes in the Atlantic Division.
Bethesda, the only repeat division winner, was joined by Mimosa, Newark, and Bergen - the latter with a sub-.500 record, the second club to do so. The Bethesda Bambinos easily won the league title.
Danny Tartabull of Bethesda was the batting champ at .347. Beacon's Jose Canseco had 50 homers to lead the league, while Terry Pendleton of Hoboken had 146 RBI.
Twenty-game winners were a bit scarce, as only Roger Clemens (21), Doug Drabek (21), Greg Maddux (21), and Jimmy Key (20) attained that level.
Juan Gonzalez brought $216,000 (Silver Spring), Chuck Knoblauch $145,000 (Bergen), Ivan Rodriguez $145,000 (Horseshoe Bay), Jeff Bagwell $135,000 (Birdsnest), Juan Guzman $126,000 (Kennett), Phil Plantier $120,000 (Horseshoe Bay), and Darryl Kile $113,000 (Evanston).
1992 was the first full season that featured all TCBA managers using the computer version of APBA and Statmaster.
At the Lancaster Convention in February, all 20 TCBA/AL managers gathered together for the first time in our history.
Frank Howard chose Ryan Bowen with the second pick in the Free Agent Draft. As the "crowd buzzed", Frank silently wondered: "Is Bowen a bum, a sleeper, or somewhere in between? Time will tell." (ed. note: a sleeping bum, perhaps?)
Larry Smith begins publication of TCBA Today, raising our publishing consciousness and leading to an official change in the league name.
Birdsnest's Randy Johnson strikes out 11 straight batters in the season opener against Beacon, but loses the game 8-2.
In August Jesse Elicker resigned from TCBA/AL.
Bob Braun - The lean and trim '90's continue to take their toll on every aspect of our lives. At work many of us are finding the responsibilities mounting as our companies slash back the work force. Fortunately I have heard of no unemployment problems among our members (I've done enough of that for the entire league!) Even in our personal lives, there just seems to be so very much eating away at what little time we are able to devote to TCBA. If this sounds like the life you've been living lately, you should understand that it's not just YOU! It's life in the '90's, and I'm not sure I like it.
My simplistic recipe for stress reduction is to identify the source of stress and remove it. Sounds easy enough, but it sometimes leads to new stress - like extricating oneself from a miserable marriage only to find out that single-parenthood ain't no picnic. Most of the time, though, removing the stress leads to a more pleasant existence. We hope that such is the case for Jesse Elicker.
Jesse found life in the '90's to be incompatible with working in two leagues, especially when he was chief honcho of one of them. With enough outside responsibility to keep anyone fully occupied, it just wasn't fun for Jesse. I think we can all relate to that. Somehow life had to be simplified, and sacrificing TCBA/AL was the most sensible approach.
I think my first encounter with Jesse was up in Cobleskill in 1982. I remember that the waitress at the banquet hated me, but she kept brushing against Jesse throughout the dinner. What was that offer you made her, Jess? Something about Lebanon Bologna?
Fortunately for all of us, Jesse will stay on in the TCBA as a member of the NL. Lancaster wouldn't be the same without his steadying presence.
Thanks for sharing your time and energy with us, Jesse. It's been fun!
Frank Tedeschi - We had a pretty strong team in '92. With lots of power and pretty good pitching, we marched into the finals against league founder Jim Lafargue and his very strong Newark franchise. The year before, the league had voted for a championship plaque to reside with the league champion for that year. This was the first year it would be presented to the winner. As Game Six came to a close and the Bambinos had captured the championship, I was greeted with congratulations from the other league members, while in the background was the plaque being held by Marty Fiehl. My name would join the league legends; McEneaney, Lafargue, Fiehl, Braun, Warren, etc. As it was presented to me, I peered down to see my name. There, instead of Frank Tedeschi was Little Sheep Fucker. What?? Who says I'm little or was that a reference to the size of the sheep? Or maybe the size of something else? HEY!!!! Christ, fuck one lousy sheep..... Maybe this is a Fiehl psyching strategy. I am almost afraid to win another championship in fear of what might appear on the plaque should we ever win again.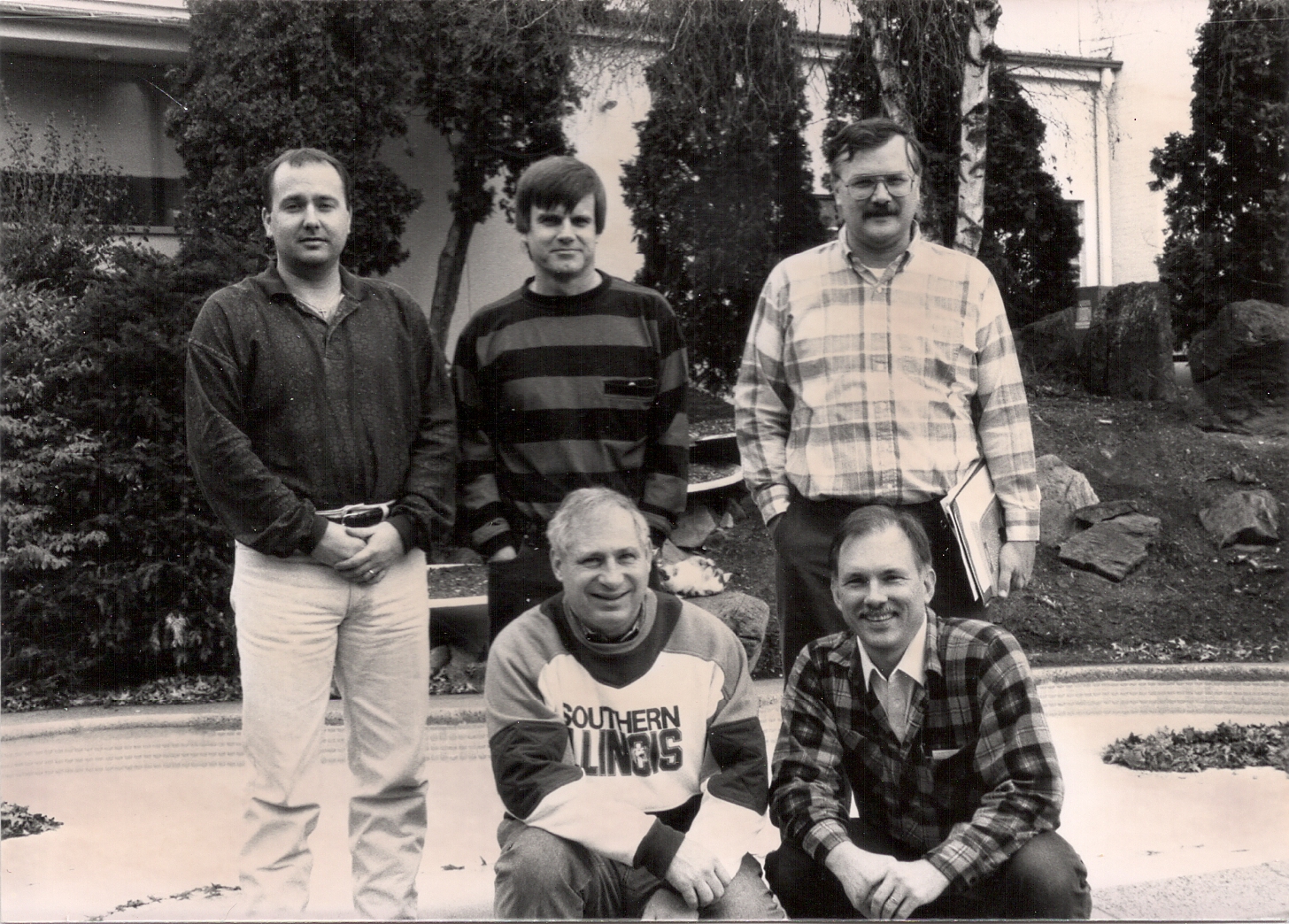 The Central Division 1992
Standing (from left): Scott Brown, Larry Smith, and Gerry Hobbs
In front (from left): Al Keefer and Bob Wood