Metro Division

Capitol Division

Long Island

108

54

-

Hereford

99

63

-

Newark

106

56

2.0

Rapidan

75

87

24.0

Scranton

101

61

7.0

Silver Spring

73

88

25.5

Beacon

100

62

8.0

Gunpowder

71

91

28.0

Bethesda

75

87

33.0

Innisfree

68

94

31.0

Eastport

49

113

59.0

Edinburgh

68

94

31.0

Central Division

Atlantic Division

Horseshoe Bay

97

65

-

Hilton Head

99

63

-

Mimosa

90

72

7.0

Tiger Bay

88

74

11.0

Bradenton

73

88

23.5

Fargo

84

77

14.5

Morgantown

70

92

27.0

Farmington

78

83

20.5

Evanston

69

93

28.0

Arlington

72

90

27.0

Waukesha

61

101

36.0

Rochester

68

94

31.0
Comments –
Bob Braun - On this cold, frosty morning, I have found something that warms my heart. No, it is not yesterday's long awaited victory over Navy by the Army football team, although that surely was a welcomed bit of sunshine. And, no, it was not the tasty ham and egg biscuit I munched this morning with fresh-ground coffee while watching the sun rise above the Pamlico Sound here in New Bern, NC; although that, too, was a welcome sight. The heart-warmth I feel comes from a different source. In the early summer of 1976, I made my very first trip to Endwell, NY. I had been exchanging hilarious, entertaining and always-enlightening letters with a TCBA stick figure for a while, and finally I was able to put a face to the letters. My friendship with Marty began with his first letter to me, strengthened with that Endwell visit which also included my infant daughter Sarah, and continued to grow through the seasons and a string of Thanksgiving weekend trips to Endwell with my son David (and Jim McEneaney) when I was learning to be an effective single parent. Always Marty was there. Today, as I look back on our 40-year connection, I see clearly now how this friendship has brought so much joy to my world; so appropriate during this holiday season. But the real heart-warming part of all this is today. This day. Marty is celebrating his 60th birthday! And I am so very grateful that I am able to share the good news with you. He's still here. He's among us. Joy to the world… Well, the TCBA world, at least. Happy birthday, my friend. WE STILL HAVE SEVERAL DECADES LEFT TO CREATE MORE HAVOC!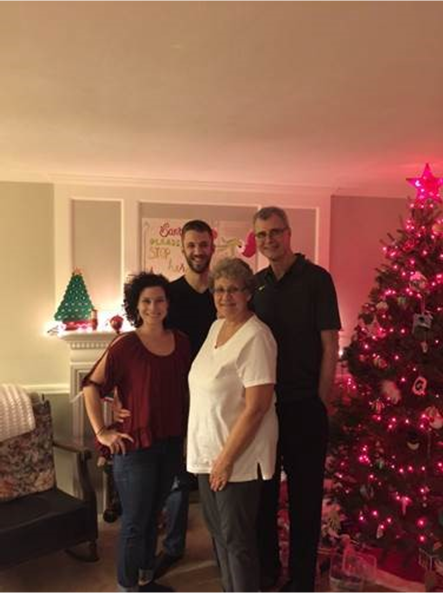 Marty Fiehl – 40 years ago!  Wow, that went fast. A lifetime of memories!  Not sure we have TOO many more decades to go, and the only 'havoc' I can create these days is IN MY PANTS!
Bob Wood - Happy Birthday, Marty. You're officially a sex-tagenarian now.

Gerry Hobbs - Ouch. I think Marty was still in high school when he first called me. Let's see that would make him about 23 at the time. Congratulations on your birthday! At some point we don't celebrate birthdays as much as we endure them. And, "No", I won't trade you Vida Blue for John Wockenfuss.

Jim McEneaney - I will! I will! It was the Wock who helped create so much of that "HAVOC" Bob referred to for the Islanders of the late '70's and early '80's.
Jeff Hobbs - Happy Birthday, Marty... you letting me into the TCBA was a great moment in my life. Almost makes up for you letting J.R. in.
David Braun - Happy birthday, Marty! Thanks for all the fond memories over the years and for being my dad's bestie all this time. You th' man!
Sarah Braun-Hamilton - We had the joy to see Marty and Diana this summer, and I've been glad to know him my entire life (which is two thirds of his life), and here we are with the next generation. On my shoulders, Zeke is almost as tall as him.
<![if !vml]>
<![endif]>
John Christopher - While I haven't been in the TCBA all that long, I have already witnessed the kindness that is evidence on what kind of man and friend Marty is. It's been a joy to be in the TCBA and Marty is the first to share in the fun and is always willing to help with whatever question you may have.
Gerry Hobbs (Reporting a July series with Hereford) - Unless Jeff beat me to it, this is likely the first TCBA-T series played in Newfoundland.
Jeff Hobbs – Married Courtney in September. Expecting twins in June!
Marty Fiehl –
Good Morning!
Hopefully most of you are in the restaurant at the moment, finishing up Breakfast with the Champ!
And for those who might not know it, this year's Champ is Bob Braun and the Beacon Braves!!!
(That's a lot of Bee's!)
<![if !vml]>
<![endif]>
Beacon broke a 29-year drought last night to take home the TCBA Plaque, besting Long Island in a close, 7 game contest that had momentum shifting back and forth like a clownish windsock at a car wash Grand Opening!
<![if !vml]>
<![endif]>
Thanks to some errors early on by Beacon, LI slowly started to pull away…then the Islander pitching staff muzzled the Beacon offensive attack as if they were dealing with Hannibal Lecter!
<![if !vml]>
<![endif]>
The Islanders found themselves with a well-deserved 3-1 game lead and, and Beacon found themselves taking a 'time out in the action' to come up with an alternative strategy. Something had to change, they had to do something either better or different, or they'd be going home empty handed within another game or two.
Whatever pep talk Red Braun gave the team at that point, seemed to work.
They came out of the locker room and onto the playing field stinging more balls than a jock strap covered with Ben Gay.
Next you looked, it was now 3 games to 2 in favor of LI
Then 3 games to 3 in favor of no one…………………
LI was on the ropes, and we moved to the all deciding Gm7.
Beacon wasted little time continuing the pummeling.
They went up 6-0 in I believe the 2nd or 3rd inning………………getting to the LI bullpen way earlier than Jimmy Mac would have preferred.
But then it happened.
Mo Mentum started turning like an oil tanker needing to make a 90 degree change of course. Nothing drastic, like a LI Grand Slam or anything, but,
Long Island pitching 'bellied up to the bar' and returned to throwing goose eggs…………while the Islander attack took the slow and patient course of scoring 1 run an inning, maybe 2. But the 6-0 Beacon lead was getting chipped away, 6-1, then 6-2…I believe they scored four innings in a row, and next time one checked, it was a ONE run game!
Beacon switched to their Twin Towers of Terror in the bullpen, Wade Davis and Andrew Miller to finish out the game and do whatever necessary to hold onto that lead.
Long Island threw all their depth, pinch hitters, and bench strength into the fray every chance they got in the last two innings………………but when the two teams left the field after 9 complete innings…………it was a tired, besieged, but victorious Beacon squad that tried to hoist Manager Braun upon their shoulders, and carry him off the field, displaying the TCBA Plaque in proud celebration!
It'll have a permanent place in the Braun household…for the next 360 days or so, I believe tours will begin in the month of April! :-0
Bob Braun –
I was greeted at the door by my wife, whose first question was, "Do  you have the plaque?" It is already on display on the living room mantel.
<![if !vml]>
<![endif]>
Marty Fiehl –
For the Islanders, it was a helluva run!
Their season ticket holders have no complaints! They got the most for their money this year!
Round 1 Playoff versus Mimosa went a full 7 games!
Round 2 Playoff versus Newark, again went a full 7 games!
And now, Round 3 Championship round, went…wait for it…another full 7 games!
These guys are tired…………………but they sure enjoy playing in the Post Season!
Though I was only logged in via TeamViewer, and didn't get to witness it live, I can tell that BOTH managers were having a good time, whether they were winning or losing, there was always some good-humored chatter and fun being had by both squads!
And the best part is: Though THIS season is now over, and Beacon gets to bask in 12 months of Championship Glory……the rest of us get to start up all over again in about 3 weeks, and recharge our batteries, with some new players and new optimism, as we announce PLAYBALL once more and play games 1 thru 5 to christen the next new season!
Congrats to the winner and let's do it all over again in the next 9 months!