Metro Division

Capitol Division

Long Island

108

54

-

Hereford

99

63

-

Newark

106

56

2.0

Rapidan

75

87

24.0

Scranton

101

61

7.0

Silver Spring

73

88

25.5

Beacon

100

62

8.0

Gunpowder

71

91

28.0

Bethesda

75

87

33.0

Innisfree

68

94

31.0

Eastport

49

113

59.0

Edinburgh

68

94

31.0

Central Division

Atlantic Division

Horseshoe Bay

97

65

-

Hilton Head

99

63

-

Mimosa

90

72

7.0

Tiger Bay

88

74

11.0

Bradenton

73

88

23.5

Fargo

84

77

14.5

Morgantown

70

92

27.0

Farmington

78

83

20.5

Evanston

69

93

28.0

Arlington

72

90

27.0

Waukesha

61

101

36.0

Rochester

68

94

31.0
Comments –
Playoff Match-ups
Long Island 4 vs Mimosa 3
Hilton Head 1 vs Beacon 4
Hereford 2 vs Scranton 4
Series D is Teams 4 and 5: Horseshoe vs Newark
Marty Fiehl – MI-LI was a great series to watch, as Rajai Davis pretty close to singlehandedly pushed the Mirthmakers into a 3-3 game deadlock with the Islanders through six games. He was the ONLY Mirthmaker in the whole lineup that did squat, and it was fun to see the top of the Mirthmaker lineup come up just to see if Rajai could do it again! And, more often than not, he did!
After game 6, here's what Mimosa's batting averages looked like for their starting lineup:
<![if !vml]>

<![endif]>
Guess where Rajai hit in the lineup? And yet, Mimosa found a way to deadlock the #1 Seed at 3 games apiece, and put the entire fate of his team on Trevor Bauer's pitching shoulders for a Game 7 winner-take-all battle.
And that's when the carriage turned into a pumpkin; the glass slipper into a Croc.
Mimosa needed JACK Bauer on the mound, not Trevor. Instead of a 'battle', game 7 looked more like a blitzkrieg. More like Little Big Horn. Long Island was the iceberg to Mimosa's Titanic.
The Islanders scored in EVERY inning, right on through the first six of them.
The Islander starting pitcher, Rich Hill, pitched six innings and gave up only one, solitary, impotent hit.
After watching six great back and forth games, that most of the times went down to the last batter with runners on base, the attending fans were presented with a runaway.
And where was Rajai Davis when Mimosa needed him most? Going OH-for-four with three strikeouts!
Mighty Rajai, had struck out. Whatever deal he signed with Ol' Beezlebub must have expired after six games, as Rich Hill turned the Mimosa batting order into Pork Chop Hill.
With a 9-0 lead, Long Island went into 'prevent defense' and pulled anyone on their squad not wearing a cup. The rest were ordered to avoid fastballs to the wrist or to shy away from outfield walls. With the game well in hand, the Islanders were looking forward to Round 2 of the Playoffs.
We're now down to the Newark vs Horseshoe Bay pairing to complete the 1st Round set.
Congrats go out to a well built and balanced Long Island squad, and also to a scrappy Mimosa squad for hanging right in there to a Game 7 showdown.
Bob Braun - On this cold, frosty morning, I have found something that warms my heart. No, it is not yesterday's long awaited victory over Navy by the Army football team, although that surely was a welcomed bit of sunshine. And, no, it was not the tasty ham and egg biscuit I munched this morning with fresh-ground coffee while watching the sun rise above the Pamlico Sound here in New Bern, NC; although that, too, was a welcome sight. The heart-warmth I feel comes from a different source. In the early summer of 1976, I made my very first trip to Endwell, NY. I had been exchanging hilarious, entertaining and always-enlightening letters with a TCBA stick figure for a while, and finally I was able to put a face to the letters. My friendship with Marty began with his first letter to me, strengthened with that Endwell visit which also included my infant daughter Sarah, and continued to grow through the seasons and a string of Thanksgiving weekend trips to Endwell with my son David (and Jim McEneaney) when I was learning to be an effective single parent. Always Marty was there. Today, as I look back on our 40-year connection, I see clearly now how this friendship has brought so much joy to my world; so appropriate during this holiday season. But the real heart-warming part of all this is today. This day. Marty is celebrating his 60th birthday! And I am so very grateful that I am able to share the good news with you. He's still here. He's among us. Joy to the world… Well, the TCBA world, at least. Happy birthday, my friend. WE STILL HAVE SEVERAL DECADES LEFT TO CREATE MORE HAVOC!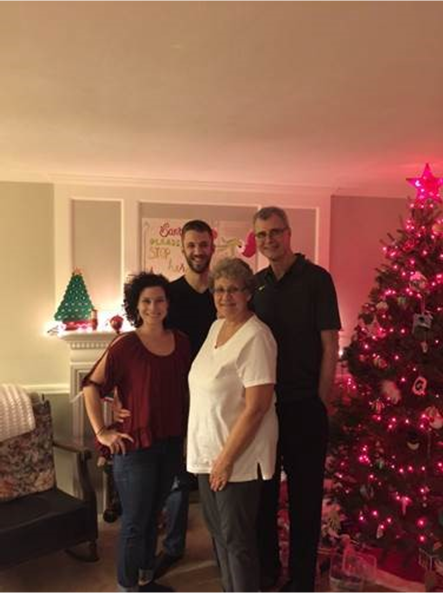 Marty Fiehl – 40 years ago!  Wow, that went fast. A lifetime of memories!  Not sure we have TOO many more decades to go, and the only 'havoc' I can create these days is IN MY PANTS!
Bob Wood - Happy Birthday, Marty. You're officially a sex-tagenarian now.

Gerry Hobbs - Ouch. I think Marty was still in high school when he first called me. Let's see that would make him about 23 at the time. Congratulations on your birthday! At some point we don't celebrate birthdays as much as we endure them. And, "No", I won't trade you Vida Blue for John Wockenfuss.

Jim McEneaney - I will! I will! It was the Wock who helped create so much of that "HAVOC" Bob referred to for the Islanders of the late '70's and early '80's.
Jeff Hobbs - Happy Birthday, Marty... you letting me into the TCBA was a great moment in my life. Almost makes up for you letting J.R. in.
David Braun - Happy birthday, Marty! Thanks for all the fond memories over the years and for being my dad's bestie all this time. You th' man!
Sarah Braun-Hamilton - We had the joy to see Marty and Diana this summer, and I've been glad to know him my entire life (which is two thirds of his life), and here we are with the next generation. On my shoulders, Zeke is almost as tall as him.
<![if !vml]>
<![endif]>
John Christopher - While I haven't been in the TCBA all that long, I have already witnessed the kindness that is evidence on what kind of man and friend Marty is. It's been a joy to be in the TCBA and Marty is the first to share in the fun and is always willing to help with whatever question you may have.
Gerry Hobbs (Reporting a July series with Hereford) - Unless Jeff beat me to it, this is likely the first TCBA-T series played in Newfoundland.
Jeff Hobbs – Married Courtney in September. Expecting twins in June!