Metro Division

Capitol Division

Newark

107

55

…

Silver Spring

88

74

…

Long Island

107

55

…

Edinburgh

83

79

6.0

Bethesda

104

58

3.0

Rapidan

81

81

7.0

Scranton

80

82

27.0

Hereford

68

94

20.0

Beacon

75

87

32.5

Gunpowder

66

97

23.0

Eastport

68

94

39.5

Innisfree

53

109

35.0

Central Division

Atlantic Division

Waukesha

87

75

…

Brooklyn

94

65

…

Horseshoe Bay

83

78

3.5

Rochester

91

70

2.5

Mimosa

83

79

4.0

Fargo

89

73

5.0

Evanston

80

82

7.0

Tiger Bay

79

82

14.5

Bradenton

80

82

7.0

Arlington

64

98

30.0

Morgantown

72

89

14.5

Farmington

61

101

33.0
Comments –
The Continuing Story –
Bob Braun acquires pitcher Chad Gaudin off the Waiver Wire on a tout from Marty Fiehl. Gaudin is soon after arrested for intoxicated groping of a woman on an emergency room gurney. He gets cut by the Phillies upon arrival to Spring Training – a "failed physical."
Bob Braun trades Justin Smoak to Marty Fiehl for Michael Young. Young immediately retires from baseball.
Jim McEneaney – Jim's daughter Cathy delivered Mac his 3rd grandchild (Justin) on January 31st.
Jeff Hobbs – As it currently stands, the Fungoes will be going all the way into the 8th round of the FA draft in Grantville this year. Thus we'd like to buy up one or two mid-to-late FA picks. We're willing to pay the standard rate of about $4K-$10K for a 3rd round pick, $2K for a 4th round pick ($3K if it's early the round), and $1K for a 5th round pick. We may even pay $1K for a 6th round pick. There are typically several teams that don't use their 6th round pick anyway, so if you're one of those teams then here's your chance at a free $1K. E-mail me back and maybe we can make the deal of the century.
Ralph Kiner died on February 6, 2014.
Marty Fiehl - Yeah, what a class guy he was… I listened to him in the 60's on up broadcasting the Mets. A lot of good memories there. I'm enjoying having him in Yesterday and still visualize his big portly body out there in the outfield.
Al Keefer - I can remember (Kiner's) 2 years with the Cubs. Sauer & Kiner in the OF were quite a pair.
John Christopher - I will not be making the trip to Grantville this year. I apologize since I was planning on bringing the extra laptop, but I will have to be one of those participating via Skype or online in some way. I won't get too far into it, let's just say that attempts at a 2nd child have not gone as smoothly as hoped and I can't afford to miss any key "dates" :). I will see you all virtually this season and will be back in full force next year.
Mike Kane - You will be missed, but I have to say your excuse made my wife and I spit out our coffee. Just awesome! … a simple "can't make it" would have worked! I reserve the right to tease the heck out of you forever in TCBA!
John Christopher - Well, I'm glad I could provide the morning chuckle. Although, I have to blame Jeff for my added reasoning. When recruit(ing) he stressed Grantville was one thing I should make priority for this league. Given I'm still a newbie, I figure I had to express validity for my absence.
Thanks Jeff, this is all your fault.
Mike Kane - …Jeff's my new hero.
Marty Fiehl - I guess I'm not seeing the problem. Bring your wife. Friday night we take two 5 minute breaks during the rookie draft. You can use the first one for the foreplay.... if successful, in keeping with baseball tradition, the child must be named 'Honus'.
Bob Braun – Or 'Bonus'. Oh wait, that might be a problem…
James MacEachern - Bring the wife! We will all chip in a few bucks and get you the special honeymoon suite. Plus I hear thinking about baseball is good for you when you're on a "date".
Mike Kane - We'll be expecting cigars around Christmas! Don't strike out now.
JR Richardson - As my wife is 5 1/2 months pregnant, I can safely assume that I have permission to attend.
Gerry Hobbs – Braggart.
Jeff Hobbs (Posted during a March trip to Canada with father, Gerry) - It's supposed to get down to -26F here in Thompson, Manitoba tonight. Some people go South for spring break, but Dad and I are too smart for that.
Bob Braun – I received an e-mail in early February from Don Mahley telling me that he would not be at Grantville. In fact, he said, "I will be dead by then." I made three phone calls in rapid succession to Marty Fiehl, Jim McEneaney, and Bob Wood. Each of them had received the same e-mail.
Donald A. Mahley (age 71)
Ambassador Don Mahley passed away after a two year battle with pancreatic cancer on March 1, 2014. Husband of Julianna Stephenson Mahley for 45 years, he had a career in the U.S. Army for 27 years with work at the National Security Council and Arms Control and Disarmament Agency. Later he was confirmed as the State Department Ambassador serving as Special Negotiator for Nonproliferation. His work on the protocol for the Biological Weapons Treaty, establishing the Office for Prohibition of Chemical Weapons, and negotiating the recently signed Arms Trade Treaty is notable.
He was also known for his love of animals, fantasy baseball, the theater world where he served on the board of directors of Synetic Theater, Chicago Cubs, and coaching the speech and debate teams at USMA, single malt scotch, vintage port and pinot noir, and above all the many friends and colleagues he knew over the years.
In lieu of flowers, memorial contributions can be made in his name to Best Friends Animal Society, 5001 Angel Canyon Road, Kanab, UT 84741.
Arrangements are pending for memorial service, burial and reception at Ft. Myer and Arlington National Cemetery. Family, friends, and colleagues may attend a viewing at Money and King Funeral Home, 171 West Maple Avenue, Vienna, VA on Thursday, March 6 from 2-4pm and 6-8pm.
Tom Meade – It's a sad day…
Bob Braun – Don was a friend, always.
<![if !vml]>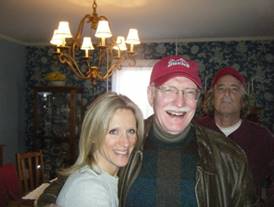 <![endif]>                         <![if !vml]>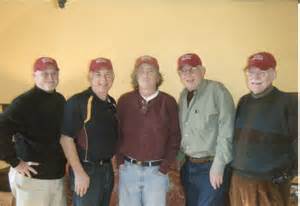 <![endif]>
                 Don Mahley with Sue & Stu McCorkindale             Bob Braun, Bob Wood, Stu McCorkindale, Jim McEneaney & Don Mahley
<![if !vml]>
<![endif]><![if !vml]>
<![endif]><![if !vml]>
<![endif]>
Don Mahley (in all his various disguises)
<![if !vml]>
<![endif]>
Julianna Mahley - I'll think of all of you during the Grantville weekend. That was something (Don) really wanted to attend, but it just wasn't meant to be.
Don Mahley received full military honors at a ceremony in Arlington National Cemetery on November 3rd, 2014.
<![if !vml]>
<![endif]>
Walter MacEachearn - I'm back home after another Grantville meeting, musing on how the meeting is an important reset for the year, and how seemingly little things at that meeting strum deep emotional chords.
I've had some time this morning to look at the 1956 card set Don Mahley left behind, looking at his painstakingly marked master symbols on this 2012-produced basic set. In the midst of fighting cancer and  controlling arms proliferation Don spent hours on these  cards, carefully putting the speed, steal rating, pitching  grade, arms and platoon rating in just the right spot on  each card, and organizing the card deck into pitchers and  batters as I'm sure he did when he got his APBA cards in  his youth. He had a system, and it's a good one, for locating these where you would want them as you flipped through the cards in a lineup.  I began to think on why he chose 1956. That season would have put him in his early teens. If I compare that to my baseball timeline, 1956 for him was at about the same time in his life as 1963-1964 was in mine. I can go through a card set for those early 60's years and trigger memories of counting up strikeouts for Koufax and homers for Mantle and Maris and hours spent buried in concentration on how to calculate earned run averages from scribbled paper score sheets. (For me the cards I held and sorted were for Big League Manager (BLM)). The point is, the memories of those years are as imbedded in the handling of these cards as the recollections of many childhood joys are triggered by the smell of a meal once cooked by our mothers. I thought of Terence Mann in Field of Dreams: "People will come Ray... And they'll walk out to the bleachers; sit in shirtsleeves on a perfect afternoon. They'll find they have reserved seats somewhere along one of the baselines, where they sat when they were children and cheered their heroes. And they'll watch the game and it'll be as if they dipped themselves in magic waters.
The memories will be so thick they'll have to brush them away from their faces. People will come Ray." These cards are a source of life energy, that same spring we all draw upon as we gather to have our meeting, or as we get a shipment of cards from a game company and settle in to organize and tag them, dipping ourselves in "magic waters". The energy we connect with is from our early teen years where we were transitioning from the safety and fertile imaginations of youth to the scary but endless potential the years looming ahead. Before girls and careers became important, as we became more aware that we were destined to move on to the responsibilities of high school, college, mortgages and children. A time when the world seemed to revolve around us and our baseball fantasies, and we had no cares about the eventual failings of our mortal coil, our mortality. It's a time with special significance for us all, and for the generation Don and I are from it can be accessed once again when surrounded by these iconic cards and game sets. It can always be with us, on call as needed, to bring calm and to put us in touch with eternity. I'm so glad that Don had that comfort available to him as he faced his final dice rolls. While looking through the cards, I went to stir the fire I'd started to add some warmth to this chilly springtime wool gathering, and my dog Jesse found the card box, carefully labeled and often handled by Don. He promptly took it to the couch where he proceeded to gnaw the corner of this precious artifact. I caught him at it fairly quickly, but it now has his loving chew marks added to its history. I'm sure Don the dog lover would approve of this addition.
Marty Fiehl - As we see the Hall of Fame plaques get awarded, one common statement from all of the inductees has been words similar to: "If all the new guys coming in can experience even HALF of the joy, pleasure, and friendship that I have in the last thirty years..."
And it's true.
As we've aged, we come to appreciate and cherish just what we've found in the TCBA over the last few decades, that even with all those events Walt recounted, i.e. college, career, mortgage, children, etc.....through all that, we've had our Association to take comfort in, add pleasure to our already busy life, and provide a lifetime of friendships, not just for one weekend a year, but for 365 days a year. I'm sure the newer members don't quite understand that yet, as I know we didn't when we were in their position back in the 70's......but at some point they will.
Don... over the last couple of years he had come to me with his resignation a number of times; not because he really wanted to leave us, but because he was concerned that his health issues were going to cause him to be late or sporadic with his series results - this from a guy who was the absolute hands-down winner for the most punctual on time manager in the league the last quarter century plus. He'd always keep me informed when he'd be travelling, midnight flights overseas, etc; but when he told me his results would be in the evening he returned or landed, sure as (heck) they were there.
Of course I'd never accept his resignation, as I knew that sometimes playing the series and participating in the league is going to help carry him through some of the deepest and darkest days yet to come. I know it has had a similar effect for me over some of the last few years.
I guess some people use religion to comfort them at the end… I prefer baseball and the TCBA - The Rookie Auctions are more fun than having to go to church! And Walt's microbrews are tastier than the sacrificial wine (I hope I made the right choice!) J
Anyway, as memories of our life history gain in importance, and become all we've got left… I'm very thankful for the many decades I have to look back on that are associated with the TCBA, and the long-time relationships that were developed.