INDEX
Seasons
1902 1903 1904
1905 1906 1907 1908 1909 1910
1911 1912 1913
1914 1915 1916 1917 1918 1919
1921 1922 1923
1924 1925 1926 1927 1928 1929
1930 1931 1932
1933 1934 1935 1936 1937 1938
1939
1940 1941 1942
1943 1944 1945 1946 1947 1948
1949
1950 1951 1952
1953 1954 1955 1956 1957 1958
1959
1960 1961 1962
1963 1964 1965 1966 1967 1968
1969
1970 1971 1972
1973 1974 1975 1976 1977 1978
1979
1980 1981 1982
1983 1984 1985 1986 1987 1988
 1989
1990 1991 1992
1993 1994 1995 1996 1997 1998
1999
2000 2001 2002
2003 2004 2005 2006 2007 2008
 2009
2010 2011 2012
2013 2014 2015 2016 2017 2018
  2019
2020 2021 2022
2023 2024 2025 2026 2027 2028
  2029
Miscellaneous
Foreword 1
Foreword II
Introduction
The Ad
The Letter
The Test
First Newsletter
Yesterday
Gold
Origins
Standings

Metro Division

Eastern Division

Long Island

96

66

...

Harbor Beach

87

75

...

Bergen

82

82

14

Morgantown

82

79

4.5

Scranton

80

82

16

Chicago Ridge

68

73

8.5

Meadowlands

74

87

22

Prospect Heights

67

74

9.5

Hyde Park

67

87

25

Miller Court

65

90

19

Central Division

Western Division

Winnebago

121

27

...

Mimosa

95

67

...

Evanston

91

71

37

Horseshoe Bay

84

78

23

Western Springs

82

80

46

Norfolk

81

81

14

Bradenton

67

80

54

Northeast

62

72

19

Rockford

50

91

68

Magic Mt.

47

108

45
Dan Warren - The obscuring dust lies most densely on 1983 and 1984. While Long Island, Harbor Beach, Winnebago, Mimosa, Horseshoe Bay, and Evanston all reached the playoffs, the 1983 league championship remains an unclaimed void to this day.
Bergen's Keith Hernandez led all hitters with .357. Alan Bannister pitched a no-hitter for the Islanders, while Mike Krukow (23), Phil Niekro (23), Dan Petry (21), Juaquin Andujar (20), and Fergy Jenkins (20) had good years. Vida Blue tossed a no-hitter for Morgantown against Chicago Ridge.
Don Sutton of Bradenton had the finest pitching performance in TCBA history over Western Springs when he hurled back-to-back shutouts- a two-hitter and a no-hitter!!! He retired the first 26 in a row in the second outing before walking a pinch-hitter.
Fiehl Facts - Not much to say this year. Newsletters were short and totally dominated with National League highlights and write-ups. Dave Brown was constantly on our backs, and rightly so, to get the series in on time.
Al Keefer makes the playoffs for the first time in 9 years! League still waiting for his first trade!
Marty Fiehl - Dave McKay? While Lamaar was winning 19 and 24, Dave was still in baseball, but I think it was as a thirdbase coach. Just dumb, stupid luck on Boston's part to acquire Hoyt when they did, but nary a gathering of Metro managers can take place without the Braunmiester bringing this one up. Well, at least not for the last dozen years or so!
Bob Braun - Dave McKay hits .176 for Hyde Park.
Larry Smith - "Mirth Makers" was stolen from a favorite television show in the Mimosa household -- "Fernwood Tonight." The Mirth Makers were host Barth Gamble's band, led by Happy Kyle.
December 30, 1983 - The last of David Brown's TCBA REPORT was published, ending an era of quality reporting that followed our growth for the first nine years. It wasn't until the appearance of Larry Smith's TCBA Today in the early 1990's that we ever came close to David's professionalism.
Bob Braun - As the Dragon of Winnebago continued to ravish the land of TCBA, the Vita-Men struggled to complete their season. Long time hero Ken Singleton appeared in only 25 games, and then was unceremoniously sold to the Bradenton franchise for a paltry $40,000. The franchise leader in nearly every offensive category, a classy man who appeared in over 1200 games during 10+ seasons with Hyde Park, a player who led the team to the American League crown in 1976, who finished his Hyde Park career with close to a .300 batting average, was shipped out like so much excess baggage. The Vita-Men had hit rock bottom.
In addition to Dan Petry's 21 wins, another bright spot for Hyde Park in 1983 was young catcher John Stearns, who batted .335 in 123 games. It was to be his last hurrah, however. Felled by injuries to his shoulder in the early spring of 1984, Stearns would never play another TCBA game. For six years he filled the catcher's spot for Hyde Park. In that time he averaged 55 rbi, 67 runs, 32 doubles, 47 walks, 10 home runs, and 8 steals a year. Then suddenly, at the age of 32, it was gone.
John Stearns more than anybody reflected the state of the Hyde Park franchise as it entered the 1984 season.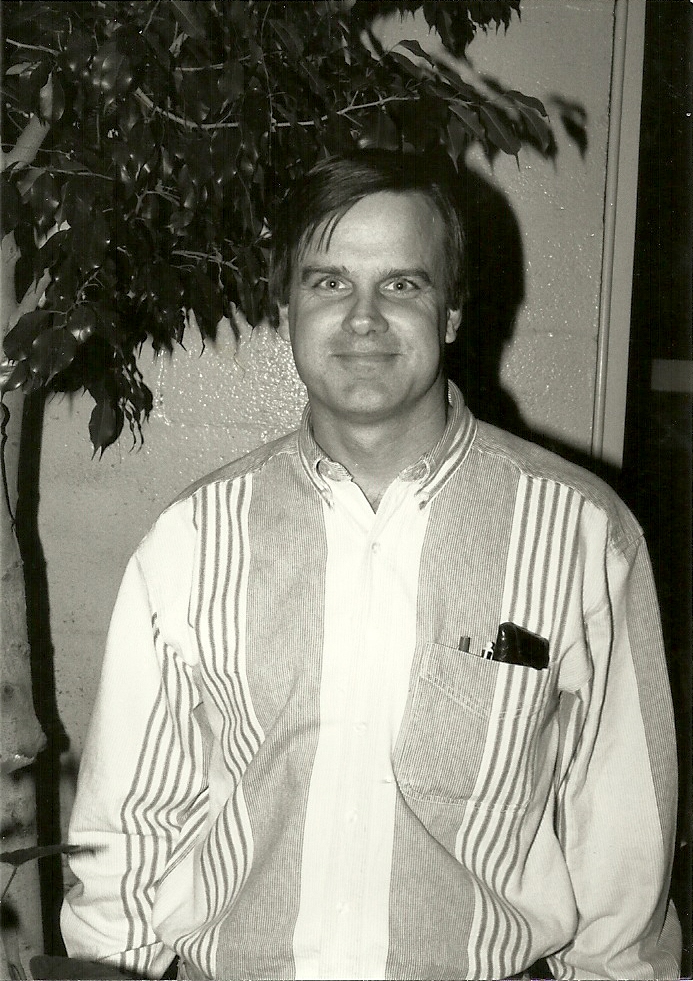 Larry Smith 1992
Mimosa Mirthmakers