<![if !vml]>
<![endif]>
Unanimous - Greg Maddux
<![if !vml]>
<![endif]>
Unanimous – Jimmie Foxx
<![if !vml]>
<![endif]>
Lou Gehrig
<![if !vml]>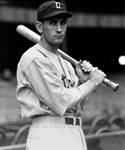 <![endif]> <![if !vml]>
<![endif]>
Charlie Gehringer & Joe Cronin
<![if !vml]>
<![endif]>
Roger Clemens
With 87% of the eligible ballots cast, voting for the TCBA Players' Hall of Fame Class 25 concluded this week with members overwhelming the ballot box with unanimous votes for Greg Maddux and Jimmie Foxx. While two other batters have also received unanimous consent (Ruth and Ott), Maddux becomes the only pitcher to receive that honor. Tom Seaver is the next closest Hall of Fame pitcher, having garnered 99.8% in 2009.
Maddux began his TCBA career in 1988, joining Don Mahley's Annandale club. Although his record of 4-11 was unimpressive, three of those wins were complete games, giving a hint of what was to come. From that acorn a mighty oak grew. For the next 17 seasons Maddux delivered 10+ wins each year, including a remarkable stretch of eight consecutive 20+ win seasons from 1992-1999. By the time he announced his retirement, Maddux had accumulated 239 complete games, #5 all-time. In 1997, Maddux was traded to Newark, where he produced another impressive streak – five consecutive Metro Division pennants and two league championships (1998-99). Moving on to Philadelphia, Greg delivered again, with three consecutive post-season appearances, including another World Series win in 2005. Maddux retired at the conclusion of the 2009 season, but not before helping Bradenton to a Central Division pennant in 2008. Greg Maddux was a unanimous choice.
Another well-deserved unanimous honor went to Jimmie Foxx. After playing sparingly for Sacramento for three seasons, Double XX exploded with the bat in 1929, beginning a streak of thirteen consecutive seasons of 20+ home runs, including a monstrous 62 in 1933, to go along with his league-leading .458 average. Foxx led Gerry Hobbs' Solons to the post-season six times, with a pair of World Series wins in 1942 and 1946.
Joining Foxx into the Hall of Fame will be another slugger, Lou Gehrig, who spent his entire career with the Norfolk/Newton franchise. Gehrig's lone trip to the post-season was a 6-game playoff loss in 1927 in which he reached base in thirteen of his twenty-five plate appearances. Gehrig attracted 92.5% of the vote.
The trajectories of Charlie Gehringer and Joe Cronin are remarkably similar. They each began their careers in the mid-1920's, playing into the early 1940's. While Cronin stayed with Al Keefer's Mexicali team for an entire career, Gehringer was a mainstay for Franchise #15, first with Craig Shifflett's Cleveland Spiders, and then with Walt MacEachern's Baltimore Orioles. In 1938, Gehringer led the league in batting with a .411 average; in 1939, Cronin's .408 led the league. Cronin and Gehringer each made five post-season appearances, with Cronin winning the only ring, a pinch-hitting role for the 1945 champion Mallards.
Roger Clemens began his TCBA career as a member of Bob Collins' Berkshire Badgers in 1985. Collins, under massive pressure to trade Clemens after finishing in last place in 1985-86 and 1988, chose to end his relationship with TCBA instead. Stepping up to take over the team was Frank Tedeschi, marking his third attempt at establishing a TCBA franchise. With 21-game winner Roger Clemens in the lead, the Bethesda Bambinos became a powerhouse, winning their first league crown in 1992. Bethesda switched to rebuilding after that season, and Clemens was traded to Scranton. For the next ten seasons, Roger and the Spanish Flies did nothing but win; eight 100+ win seasons, six Wildcards, four Metro pennants, three World Series crowns.  In those ten seasons, Clemens won 182 games!
Having worn out his welcome (if not his arm) with Scranton, Clemens was shipped north of the border in 2003 to Franchise #14 for Ed Hebscher's wildcard run with his Newmarket Eh's. Following a team move to Pennsylvania, Clemens led Bill Gettins' Keystones to three consecutive playoff appearances, including a league title in 2005. When the resin dust settled after two final seasons with Brooklyn, Clemens had amassed 358 wins and 4654 strikeouts, with fifteen post-season appearances. By all accounts, a true Hall of Fame career.
Six other players received votes in this recent election, with only Tom Glavine and Dolph Camilli assured of appearing on a future ballot.
Voting for Class 25A will be held in December. The vote totals for Class 25 are listed below:
Class 25 Voting Totals:
| | |
| --- | --- |
| Maddux,Greg | 100.0% |
| Foxx,Jimmie | 100.0% |
| Gehrig,Lou | 92.5% |
| Gehringer,Charlie | 88.2% |
| Clemens,Roger | 73.5% |
| Cronin,Joe | 71.2% |
| | |
| | |
| --- | --- |
| Glavine,Tom | 61.5% |
| Collins,Eddie* | 43.7% |
| Camilli,Dolph | 32.8% |
| Herman,Babe* | 19.8% |
| Johnson,Bob* | 11.4% |
| Davis,Spud* | 8.4% |
| | |
| | |
| | |
<![if !supportLists]>· <![endif]>Appeared on the list for the final time.
Source: TCBA Encyclopedia