Voting for the TCBA Players' Hall of Fame concluded last week with five new names being added to the TCBA shrine. Given the highest vote total ever, long-time Bergen Barfly Hank Aaron soared into the Hall like one of his all-time career leading 791 home runs. Remarkably, his Barfly teammate Harmon Killebrew, who, like Aaron played exclusively for the late Stu McCorkindale's Bergen team for 20 seasons from 1955 to 1974, arrived into the Hall on the same ballot, collecting 91.4% of the vote.
Reaction around the league was swift as news of the twin elections spread. Bob Wood, the long-time skipper of the Bradenton franchise and close associate to McCorkindale commented:
"I know that somewhere Stu is smiling."
Aaron may simply be the best TCBA player ever. He ranks #2 in hits with 3636, #1 in home runs with 791, #1 in rbi with 2118, and had a career batting average of .307.
Harmon Killebrew was renowned for his slugging in the middle of the Bergen lineup. He belted 553 home runs and drove in more than 1500 in his 20 seasons with the Barflies.
Continuing a theme from this year's election, Willie Mays also played his entire 23-season career with one team, Al Keefer's Mexicali Mallards. Mays received 92.8% of the vote in recognition of his massive career performance: 2001 runs, 635 home runs, 3169 hits, 1967 rbi, and 337 stolen bases. As in Bergen regarding Aaron, there is plenty of argument around Mexicali that Mays is the best there ever was in TCBA.
As with the big three hitters, Eppa Rixey (72.9%) played his entire 14-season career with one team, Larry Smith's Mimosa Mirthmakers. Rixey was dominant in his time, recording six 20-win seasons on his way to 223 wins. He tossed well over 3000 inning and finished with a career ERA of 3.4 in an era when runs were plentiful.
Ferguson Jenkins may have played with several franchises in his career, including two based in Canada, but he was no less effective. Voters recognized Fergy's contributions, giving him the highest vote total ever for a pitcher (96.7%). Jenkins began his career in Newmarket, under fellow Canadian Ed Hebscher. The franchise moved briefly to Long Island, returning to Toronto under Canadian postal magnate Joe Saundercook until 1977. A return move to Long Island once again joined Jenkins with the Islander's legendary Jim McEneaney.
In his 19 seasons, Jenkins won 241 games and struck out 2955. He also tossed 51 shutouts and a remarkable 194 complete games.
 <![if !vml]>
<![endif]>   <![if !vml]>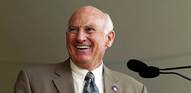 <![endif]>   <![if !vml]>
<![endif]>   <![if !vml]>
<![endif]>   <![if !vml]>
<![endif]>
"At the Ceremony"
From left to right: Hank Aaron, Harmon Killebrew, Willie Mays, Ferguson Jenkins, and Eppa Rixey
The next class of Hall of Fame candidates will be Class 11, currently scheduled to be announced on September 1, 2014. The vote totals for Class 10 is listed below:
CLASS 10 Voting Totals:
| | |
| --- | --- |
| Player | 70% Needed |
| Aaron,Hank | 99.3% |
| Jenkins,Ferguson | 96.7% |
| Mays,Willie | 92.8% |
| Killebrew,Harmon | 91.4% |
| Rixey,Eppa | 72.9% |
| | |
| Winfield,Dave | 65.9% |
| Marichal,Juan | 56.3% |
| Rice,Sam | 53.4% |
| Grimes,Burleigh | 46.0% |
| Morris,Jack | 29.6% |
| Wilson,Hack | 26.1% |
| Aparicio,Luis | 21.4% |
| Grace,Mark | 19.7% |
| Orosco,Jesse | 15.9% |
| Perranoski,Ron | 12.3% |
| McGraw,Tug | 8.1% |
| Judge,Joe | 5.6% |
| Grantham,George | 4.2% |
| Stephenson,Riggs | 4.2% |
| Gossage,Rich | 3.5% |
| Howard,Frank | 2.4% |
| Justice,David | 2.4% |
Source: TCBA Encyclopedia