<![if !vml]>
<![endif]>
Bill Dickey
<![if !vml]>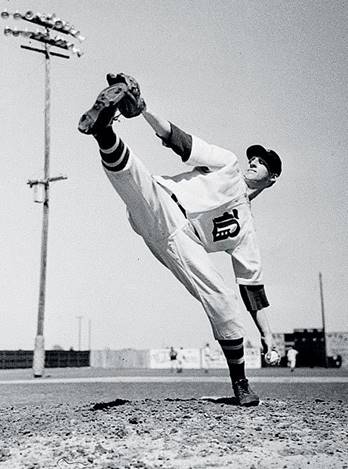 <![endif]>
Warren Spahn in his classic windup
<![if !vml]>
<![endif]>
Sphanie smiles during his induction ceremony
"Joltin' Joe" Dimaggio
<![if !vml]>
<![endif]>
<![if !vml]>
<![endif]>
Plenty of smiles from new inductee Joe Dimaggio
<![if !vml]>
<![endif]>
Evanston's Mariano Rivera
With 87% of the eligible ballots cast, voting for the TCBA Players' Hall of Fame Class 21 concluded this week with voters selecting four players from what some observers consider the strongest group of Hall of Fame candidates ever presented. And for the first time, voters seemed fully accepting of the contributions of early Retro league players, selecting three old timers to accompany a modern-day closer.
Bill Dickey (78.5%), Joe Dimaggio (82.6%), Warren Spahn (91.3%), and Mariano Rivera (74.6%) were elected to the Hall with strong support from the voters. There was no doubt that the four heroes deserved the honor.
Dickey was just 21 years old when he debuted for Hyde Park in August of 1929, appearing in six late season games. The Vitamen saw enough to recognize Dickey's potential, handing him the full-time catcher job the next season. For the next 14 seasons, Dickey was the primary catcher in Hyde Park, leading the team to consecutive World Series appearances and a championship in 1934. After WWII, Dickey moved on to Mimosa, helping them to win the championship in 1947. He retired to his home in Arkansas at the end of that season, boasting a magnificent .342 career batting average, 16th best all-time.
The City of Bradenton has special reason to celebrate this time, as two of their former stars join the Hall of Fame at the same time. Honored on more than 82% of the ballots, Joe Dimaggio was a class act from beginning to end. Bursting onto the scene as a 21-year old rookie for the Bradenton Buckeyes in 1937, Dimaggio's impact was immediate. In only his second season, Joe D led Bradenton to 106 wins and a playoff appearance, batting .369 with 34 homers.
Despite not experiencing any further post-season play with the Buckeyes, Joe continued with his batting prowess for the next five seasons, until his career and tenure in Bradenton was interrupted by WWII. Following his military service, Dimagggio signed a 2-year contract with Mimosa. He had lost little of his skills, helping the Mirthmakers to a pair of playoff appearances and a World Series crown in 1947.
Joe played his final four seasons with Long Island, with whom he made a third consecutive playoff appearance in 1949. Although he led the league in hitting in 1951 with a .367 average, his skills had clearly begun to erode. Retirement came following the 1952 season.
Warren Spahn was simply amazing. The winningest lefthander of all time, his 373 career wins trails only Greg Maddux' 389. His career did not start out promising, however. In his rookie season, while WWII raged, Spahn posted an 0-16 record for the struggling Newton Indians. Uncertain of his pitching fortunes, Warren enlisted in the army, where he spent the next three years contemplating his baseball future. Once the war ended, Spahn signed on with the Bradenton Buckeyes, and the rest, as they say, was a remarkable history.
373 wins – leading the league five times. 5679 innings pitched – leading the league eleven times. 3030 strikeouts. 379 complete games – leading the league nine times. Six playoff appearances with a record of 10-5 and four championships, all with Bradenton – 1947-48 and 1959-60.
After sixteen seasons with the Buckeyes, Spahn requested, and was granted, a trade to Newmarket, where he served as a veteran starter and part-time coach for Ed Hebscher's Eh's, retiring after the 1966 season.  
Although there has been disagreement over the importance of the Saves stat when evaluating pitchers' career contributions, there was little doubt in the voters' minds when it came to judging Mariano Rivera.
Rivera began his career with Evanston as a starter in 1996. But Al Keefer would not bumble that one, quickly recognizing Mariano's potential as a reliever. He made the switch the following season and neither Al nor Mariano ever looked back – except with pride. For the next 17 seasons, Rivera set a standard for closers that has been unmatched to date, recording 463 Saves.
Five times Evanston reached the playoffs with Rivera as the closer. In 19.2 innings of playoff pitching, Rivera allowed just one earned run, recording a Save six times. Although never reaching the World Series, Evanston's success was directly tied to the arm of Hall of Famer Mariano Rivera. Mo retired following the 2014 season.
Eleven other players received votes in this recent election. Slugger Ralph Kiner fell just 55 votes short of the required 70%, disappointing results for Ralph and his fans. He will get another try on a future ballot, as will Berra, Averill, Newhouser, and several others.
Voting for Class 22 will be held in October 2019. The vote totals for Class 21 are listed below:
Class 21 Voting Totals:
| | |
| --- | --- |
| Spahn,Warren | 91.3% |
| Dimaggio,Joe | 82.6% |
| Dickey,Bill | 78.5% |
| Rivera,Mariano | 74.6% |
| | |
| Kiner,Ralph | 64.9% |
| Berra,Yogi | 57.7% |
| Averill,Earl | 54.7% |
| Newhouser,Hal | 50.8% |
| Lyons,Ted | 43.6% |
| Trosky,Hal | 23.4% |
| Doerr,Bobby | 18.1% |
| Schoendienst,Red | 17.3% |
| Sain,Johnny* | 7.2% |
| Stephens,Vern* | 7.1% |
| Bridges,Tommy* | 0.4% |
<![if !supportLists]>· <![endif]>Appeared on the list for the final time.
Source: TCBA Encyclopedia