<![if !vml]>
<![endif]>
"I'm not concerned with you liking or disliking me. All I ask is that you respect me as a human being."
#42 Jackie Robinson
<![if !vml]>
<![endif]>
<![if !vml]>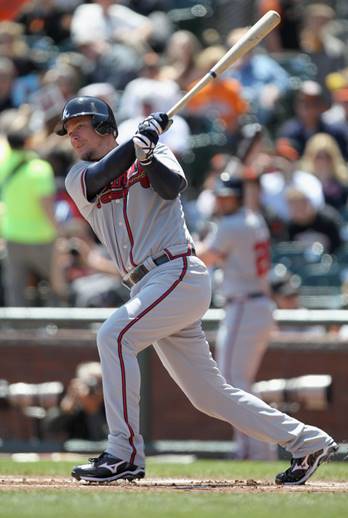 <![endif]>
Chipper Jones
Voting for the TCBA Players' Hall of Fame Class 20 concluded this week with voters selecting two more players to join the elite club. In a continuation of a theme from recent ballots, voters seemed willing to recognize the contributions of Retro league players. In this year's balloting, it was impossible for the league to not recognize the historic contributions of Jackie Robinson. In his first year of eligibility, Robinson attracted 92.9% of the ballots, almost identical of that given to current TCBA Hall of Famer Willie Mays.
Jackie broke the TCBA color barrier in 1948, signing a contract with Steve Lyon's Chesapeake Regnads, a team that had lost 125 games the prior season. Robinson's impact was immediate. Appearing in all 154 games, #42 batted .306, leading the Regnads to 89 wins and a division championship. In 1950, Robinson's 223 hits and .372 average would lead the league, and he would once again lead Chesapeake to a division crown.
A controversy arose in 1950 when Steve Lyon traded Jackie to the rival Baltimore Orioles. At the end of that season, Lyon's Franchise #2 was removed from his control and transferred to Don Mahley's Fortney Gators. It wasn't until 2012 that Lyon was allowed another TCBA franchise.
Jackie would continue his excellent play with the Orioles, contributing to a division crown in 1953. The Baltimore franchise was shifted to Cleveland in 1955, where Robinson formed a strong partnership with Craig Shifflett. The Spiders were a rebuilding team, and Shifflett used Robinson's leadership skills to help mold his team for future success. After a 110-loss season in 1957, however, Robinson racked his bat and retired from TCBA.
Jackie Robinson's contribution to TCBA is immeasurable. Beyond his superlative baseball skills, Jackie set a standard of respect for everyone of us to emulate.
Chipper Jones was acquired in the 1996 Rookie Auction for $133,000 by Jim McEneaney's Long Islanders. His contribution was immediate, helping the Islanders to a Metro Division crown in his first season and laying the first blocks of foundation for his reputation as a winner. Five more times Jones would lead the Islanders to the post-season, including a World Series victory in 2000.
Despite his contributions to the Islanders' winning ways, the arrival of David Wright in Long Island signaled the end of Chipper's reign. He was traded to division-rival Newark in March of 2007 for Wily Mo Pena, a non-descript reliever and cash.
Chipper understood the business side of baseball, and immediately set about reaffirming his role as a winner, helping the Eagles to a Wildcard appearance in 2008. He was traded one more time, at the conclusion of the 2008 season, to Fargo for Edwin Encarnacion. What may have appeared one-sided at the time, the trade provided Fargo with a veteran presence in Jones. Four times the Jones-led Fungoes hit the post-season, including their momentous 2011 World Series victory. Chipper retired after the 2013 season, recognized as a class act and a winner in every respect.
Earl Averill and Lance Berkman received solid support and will each appear on a future ballot. All the other candidates, including Bob Lemon and Omar Vizquel, have been removed from future Hall of Fame consideration due to lack of support. 
Voting for Class 21 will be held in September 2019. The vote totals for Class 20 are listed below:
Class 20 Voting Totals:
Player

70% Needed

Robinson,Jackie

92.9%

Jones,Chipper

71.4%

Berkman,Lance

66.7%

Averill,Earl

56.8%

Vizquel,Omar*

32.4%

Lemon,Bob*

31.6%

Kluszewski,Ted*

10.5%

Abreu,Bobby*

8.2%

Rodriguez,Ivan*

8.2%

Traynor,Pie*

8.2%

<![if !supportMisalignedColumns]>
<![endif]>
*Appeared on the list for the final time.
Source: TCBA Encyclopedia