<![if !vml]>
<![endif]>
Richie Ashburn collected 2601 hits
<![if !vml]>
<![endif]>
Billy Wagner
<![if !vml]>
<![endif]>
Billy Wagner –
Happy to Join the TCBA Hall of Fame
<![if !vml]>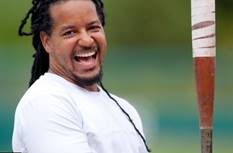 <![endif]>
Manny Ramirez Reacting to his Hall of Fame Induction
Voting for the TCBA Players' Hall of Fame Class 18 concluded this week with voters selecting three players. In a continuation of a theme from Class 17, voters seemed willing to recognize the contributions of Retro league players. This time it was Richie Ashburn, who joined contemporary players Manny Ramirez and Billy Wagner to the hallowed halls.
Richie Ashburn entered the league in 1949 wearing a Long Islander uniform. His .356 batting average in 82 games helped the Islanders snag a spot in the playoffs. His .167 average in the post season may have led to his trade to Siouxland during the off-season. Whatever the cause, Ashburn blossomed in Siouxland, leading the Explorers to the playoffs four times, including two World Series. Although never earning a championship, Ashburn played like a champion. He led the league in hits and runs twice. In his 15 TCBA seasons, Richie Ashburn played all 154 games seven times!
A graduate of Virginia's tiny Ferrum College, Billy Wagner began his career on the fringes of the TCBA world, performing before tiny crowds in London and Lake Gardener. However,  Wagner soon found himself the property of Larry Smith's Mimosa Mirthmakers. From that time until his career ended in Newark, Wagner worked his magic before sell-out crowds 689 times, racking up 237 of his 269 career saves. Frustrated with a lack of playoff opportunities in Mimosa, Wagner was moved to Bradenton in 2005, and then Farmington in 2006. It was in Farmington that Wagner got his first taste of the playoffs. And what a taste it was! After tossing four nearly-perfect innings and earning a save in the 1st and 2nd rounds, Wagner found himself in the World Series for the first time. Although he did lose one of the four games he pitched, Billy Wagner delivered three scoreless saves to bring a TCBA championship to Farmington.
 Wagner's reputation as a big game pitcher and league Saves leader attracted the attention of Long Island's Jim McEneaney, who acquired Billy from Mimosa and headed straight towards the playoffs for three consecutive seasons. In 2007, as the Long Island closer, Billy added a second World Series ring to his collection, contributing a pair of saves in the final series. Two years later Wagner was back in the World Series with the Islanders, this time as a set-up man, but his team came up short in a loss to Silver Spring.
Billy Wagner took a season off in 2010, and then completed his career with 25 saves for the Newark Eagles.
Overcoming voter protests related to PED use, Manny Ramirez accumulated enough support to earn entry into the TCBA Players' Hall of Fame. There is no denying his offensive contributions, tainted or not. Like Wagner, it took Ramirez a few seasons to find a home in TCBA, toiling for four franchises in his first five TCBA seasons before joining Bill Kirwin's Kennett Komets. It was there that Ramirez solidified his reputation as a bona fide TCBA slugger, slamming 109 home runs in three seasons. Horseshoe Bay owner Scott Brown liked what he saw, acquiring Manny in time for Polos' 2002 playoff run. During his tenure in Horseshoe Bay, Ramirez would participate in five post-seasons, including the Polos' 2003 World Series championship.
Ramirez returned to the playoffs in 2010 with Bradenton, and then closed out his career with the Buckeyes in 2011. Although he did belt a career total of twelve playoff homers, Manny Ramirez never hit a World Series home run.
Of course, there were several disappointed players who failed to reach the required vote totals. None of them, though, were more disappointed than Billy Pierce and his family. Closely watching the voter submissions, it appeared to the Pierce clan that Billy would finally get the call. The family prepared to celebrate as the final ballot was opened, only to discover that there were just no votes for Billy Pierce included. He had missed induction by 80 votes. Pierce will get one final shot at induction when his name appears for the final time in December of 2018.
Ten other players received votes in this recent election. Among the leading candidates to appear in a future election are Duke Snider, Babe Herman, and Pie Traynor, and pitchers Billy Pierce and Bob Lemon. Gil Hodges, who led Hyde Park to three consecutive league crowns in the mid-1950's, and reliever Trevor Hoffman, were two of the biggest names to be removed from future Hall of Fame consideration. 
Voting for Class 19 will be held in January 2018. The vote totals for Class 18 are listed below:
Class 18 Voting Totals:
| | |
| --- | --- |
| Player | 70% Needed |
| Ashburn,Richie | 78.1% |
| Wagner,Billy | 75.6% |
| Ramirez,Manny | 73.7% |
| | |
| Pierce,Billy | 62.8% |
| Traynor,Pie | 59.0% |
| Herman,Babe | 53.9% |
| Snider,Duke | 52.3% |
| Hoffman,Trevor * | 41.8% |
| Lemon,Bob | 35.0% |
| Hodges,Gil * | 15.9% |
| Kent,Jeff * | 14.5% |
| Delgado,Carlos * | 7.7% |
| Wertz,Vic * | 6.7% |
| Sweeney,Mike * | 5.9% |
| | |
| | |
| | |
| | |
<![if !supportLists]>· <![endif]>Appeared on the list for the final time.
Source: TCBA Encyclopedia