<![if !vml]>
<![endif]>
Goose Goslin at the Induction Ceremony;
And the Swing That Got Him There
<![if !vml]>
<![endif]>
<![if !vml]>
<![endif]>
Mike Mussina uses the arm that got him to the Hall of Fame to acknowledged the Long Island fans that turned-out for his induction.
<![if !vml]>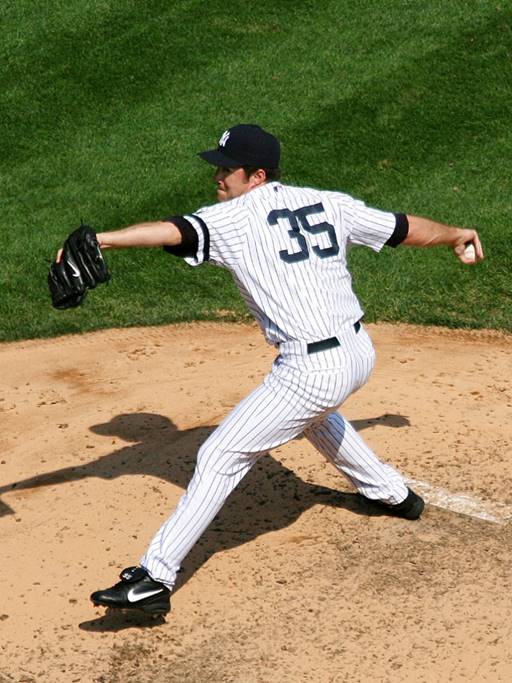 <![endif]>†
Mike Mussina
Voting for the TCBA Playersí Hall of Fame Class 16 concluded this week, on New Yearís Eve, with voters selecting two out of a large class of worthy candidates.
†
When Goose Goslin made his debut in TCBA 1922 with South Starrucca, little did the 20-year old outfielder realize that he would spend the next 17 years of his life in the heart of the Ainspan batting order. Before his career ended (with a final season in Long Island), Goslinís accumulated offensive totals ranked him among the all-time greatest TCBA players.
Appearing in 2370 games (all but 135 with South Starrucca), Goose collected 2967 hits (#13 all-time, 10 behind Frank Robinson), and 1815 runs (#11 all-time, and just 6 behind Derek Jeter). Not known as a power-hitter by modern standards, Goslin made up for the lack of homeruns (275) with doubles (535), triples (156), and a legendary knack for timely hitting, producing the third highest RBI total in the history of our game. He led the league in RBI three times, and his 2045 career total trails only Barry Bonds (2079) and Hank Aaron (2118).
Born in Salem, NJ in TCBA 1901, Goslin came under the watchful eye of Stick Fiehl while Goose was still playing for Salem High School. He was signed and moved to the Metro Division squad quickly, a move that proved prescient. After joining the Ainspan roster, Goslinís productive bat helped lead Stick Fiehlís squad to five Hackbart Division crowns and two league championships (1932 and 1938).
Voters recognized Goslinís remarkable offensive contributions, including him on 93% of the ballots.†††
On the pitching side, voters continued their general rejection of pitchers as a worthy group, but a sufficient number found Mike Mussina to their liking as a Hall of Fame member.
Similar to Goslin, Mussina spent his entire career with one team, 548 games with the Long Islanders over 17 seasons. Given an option to play one more season with a different team, Mussina chose to retire rather than don a different cap.
In his TCBA career, Mussina was simply recognized as a winner, amassing 246 career wins and tying him with Tommy John for 18th overall. His 2848 career strike outs, #17 all-time and 48 more than legendary Bob Gibson, had a lot to do with that win total.
Mussina was a classic workhorse, only twice in his 17-year career starting fewer than 27 games. He was also a winner. During his 17 seasons, Mussina led the Islanders to 10 post-season appearances, including 3 Metro Division crowns and 2 league championships.
While Mussinaís vote total of 77.3% represents a general reluctance on the past of voters to select pitchers for the Hall of Fame, his total was enough to grant him entry into the TCBA pantheon.
†Voters rejected several candidates who will get another shot on an upcoming ballot. Those most notable rejects include Pie Traynor, Duke Snider, Frankie Frisch and Mickey Cochrane, along with pitcher Billy Pierce.
In all, only 90.2% of the eligible ballots were cast, with 18 players receiving at least one vote. Of the 40 players appearing on the ballot, 28 were eliminated from Hall of Fame consideration due to lack of voter support.
Class 17 balloting will occur in January of 2017, when the 10 Class 16 eligible also-rans can be reconsidered. Class 17 will feature players who retired following the 2010 and 1964 seasons.
The vote totals for Class 16 are listed below:
CLASS 16 Voting Totals:
| | |
| --- | --- |
| Player | 70% Needed |
| Goslin,Goose | 93.0% |
| Mussina,Mike | 77.3% |
| Snider,Duke | 57.8% |
| Frisch,Frankie | 57.4% |
| Traynor,Pie | 56.1% |
| Pierce,Billy | 45.3% |
| Cochrane,Mickey | 41.3% |
| Hoffman,Trevor | 34.2% |
| Hernandez,Roberto M | 29.0% |
| Bell,Gus | 20.3% |
| Herman,Babe | 17.7% |
| Sutter,Bruce | 14.9% |
| Tejada,Miguel | 9.7% |
| Minoso,Minnie | 8.7% |
| Hafey,Chick | 7.1% |
| Sievers,Roy | 7.1% |
| Garciaparra,Nomar | 7.0% |
| Lopez,Javy | 2.6% |
Source: TCBA Encyclopedia