<![if !vml]>
<![endif]>
Jim Bunning at the Induction Ceremony
<![if !vml]>
<![endif]>
Hoyt Wilhelm
<![if !vml]>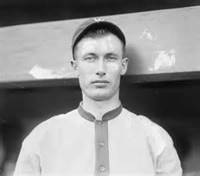 <![endif]> <![if !vml]>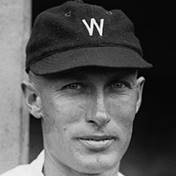 <![endif]>
Sam Rice
<![if !vml]>
<![endif]>
Induction Day:
Ernie Flashes That Irrepressible Smile
Voting for the TCBA Players' Hall of Fame Class 13 concluded this week, with voters selecting four new members. After rejecting all candidates during the Class 12 voting, participating voters reversed course, sending Bunning, Wilhelm, Rice and Banks to the hallowed Hall. 99.7% of the eligible ballots were received, making Class 13 one of the best-attended in TCBA Hall of Fame ballot history.
After two consecutive elections when no pitchers were chosen, Jim Bunning received overwhelming support, achieving the 5th highest vote total in the history of Hall of Fame voting (97.2%). Voters found it difficult to ignore Bunning, who ranks high on the All-time lists: Wins-#13, ShutOuts-#4, ERA-#7, Strike Outs-#18, and Complete Games-#19. Bunning spent his entire 17-season career with Dan Warren's Norfolk Pilots, taking advantage of the friendly confines to rack up 257 wins. Bunning led the Pilots to five division titles and three World Series appearances.
The other pitcher to join Bunning is appropriately a reliever extraordinaire, Hoyt Wilhelm, with 74% of the vote. The master of the knuckleball appeared in 1027 games, more than any other pitcher in TCBA history, racking up 222 Saves, 6th All-time. Wilhelm appeared in four World Series, two each with Fortney and Hyde Park. He led the Gators to the 1953 championship, and then followed that by helping Hyde Park to consecutive championships in 1957 and 1958. In all, Wilhelm pitched for 20 TCBA seasons, sixteen with Hyde Park and four with Fortney.
Sam Rice was recognized by the voters for his accomplishments in TCBA Gold years. Rice played sixteen seasons with the powerful South Starrucca franchise until being traded to Long Island during his final season in 1935. After leading the Ainspans to three division titles and a World Series victory in 1932, Sam helped Long Island win the division crown in what would be his final season. Rice collected 2570 hits (#32) and finished with a .339 average, the 11th best ever. Rice was renowned for his ability to hit triples, hitting 128 in his career, including 16 in 1923.
Achieving the required 70% with the very last ballot received, Ernie Banks joined the Hall with 70.2% of the vote, once again proving that every vote counts. Banks played ten full seasons with Bradenton before being traded early in the 1964 season to Mimosa, where he played for another nine season. Ernie's 429 home runs and his 1451 runs batted in each rank 30th on the All-time TCBA list, great stats for anyone, but awesome for a man who played shortstop for most of his career. Banks led Bradenton to three division titles and consecutive league championships in 1959 and 1960. In the 1959 World Series, Banks clubbed four homers to lead the Buckeyes to a 4-game sweep.
Drawing solid support, but not quite enough, Willie McCovey (63.5%), Paul Molitor (62.8%), and Hack Wilson (45.9%) will each receive another try, along with Camilo Pascual and Tino Martinez.
The next Hall of Fame ballot will be Class 13A in March 2015, which will include players and pitchers who have previously received Hall support, but not enough for induction.
The vote totals for Class 13 are listed below:
CLASS 13 Voting Totals:
| | |
| --- | --- |
| Player | 70% Needed |
| Bunning,Jim | 97.2% |
| Wilhelm,Hoyt | 74.0% |
| Rice,Sam | 72.3% |
| Banks,Ernie | 70.2% |
| | |
| McCovey,Willie | 63.5% |
| Molitor,Paul | 62.8% |
| Wilson,Hack | 45.9% |
| Combs,Earle | 15.8% |
| Stephenson,Riggs | 13.0% |
| Tiant,Luis | 11.3% |
| Olerud,John | 8.3% |
| McGraw,Tug | 8.1% |
| Pascual,Camilo | 6.4% |
| Grantham,George | 6.4% |
| Judge,Joe | 5.6% |
| Martinez,Tino | 3.0% |
| | |
Source: TCBA Encyclopedia