GAME 7: THIS ONES FOR ALL THE MARBLES!
<![if !vml]>
<![endif]>
In what has been a truly enjoyable series so far, we've come down to this: ONE GAME……One Winner…..One Plaque!
BOTH squads deserve to win this one, and NIETHER squad deserves to lose it.
But, this ain't modern day grade school, where everyone now gets a ribbon just for showing up! J
Larry has been looking forward to this challenge since back in 1999, when at Willow Valley, Al promised to 'make it worth his while' if the Mirthmakers can win the Gold Championship.
<![if !vml]>
<![endif]>
Sixteen years later……..the possibility re-presents itself…………but with the caveat that the Pope has to have departed from the Eastern Seaboard, as he doesn't give his blessing to 'gambling' or 'wagers'.
The Pope also turned down Larry's request for a 'Free Ride in the PopeMobile' if the Mirthmakers could beat Fiehl's Heathens, aka, the Ainspans!
Stick Fiehl had also planned on some Intervention Help when he negotiated with The Man Down Under and offered to give up air conditioning in his reserved room if he could have some help just making it to Game 7 versus Mimosa.
(How do you think I got the Rain Delay reducing Dizzy Dean a full 8 grades, and the next game where Mimosa's starting pitchers arm fell off before he threw the first pitch?! That was necessary, and got us to this point, but didn't come cheap, as I'll be sweating my ass off for Eterniy!)
<![if !vml]>
<![endif]>
So with the stage set, and five minutes before gametime on Teamviewer, we stretch a bit, and send the invitiation out to Larry.
<![if !vml]>
<![endif]>
Here we go:
Castor (gr 8) for Mimosa
Tamulus (gr 5 L) for Starrucca
Both are needed to go deep
Mimosa has about 8 WB's left from Jumbo Brown in their pen.
Starr has about 7 wb's left from a mediocre reliever in theirs.
It could get to double digits for either or both teams before the bullpens can get called upon.
Top 1…….this inning can best be subtitled with "WTF?!" being exclaimed by the Mimosa GM.
<![if !vml]>
<![endif]>
THREE errors, count em, THREE in the first inning by the Mimosa fielders lead to 3 undeserved Starrucca runs.
I say 'undeserved'…….but I'll take 'em ! J
A real 'punch to the gut' though for the Mirthmaker team to spot us 3 runs before they even get to the plate.
Top 2…..three straight hits by Starrucca lead to another run……..could have been much more, but Ernie Lombardi saves Mimosa's bacon by picking a runner off secondbase.
Still, Starrucca goes up 4-0
Bot 2………..Lombardi leads it off with a single….and the Mirthmakers follow with three MORE hits, to plate 2 runs this inning, and begin a fine comeback, halving the Starrucca lead.
Now 4-2.
This hitting and scoring is pretty much what was expected with the lesser end of our rotations squaring up against each other today.
And then, things went cold:
<![if !vml]>
<![endif]>
FIVE consecutive SHUTOUT innings by BOTH pitchers surprise the crap out of both managers, and take us thru 7 complete innings with Starrucca hanging on to their 4-2 edge.
Top 8……..Starrucca scores a big insurance run and hits back to back TRIPLES!
(we seem to do that a lot…….the triples thing. We stroke NINE of them in this series!)
Spans now up 5-2, but our pitcher is surely running out of gas about at this point in the game.
Bot 8……Mimosa begins the charge.
A walk and a double puts two ducks on the pond…
<![if !vml]>
<![endif]>
…………as we go to our last hope to hold onto the game; grade 7* Sundra, with 7 wb's left in the tank enters the fray.
But up steps Ernie Lombardi for Mimosa.
He has been Mimosa's BEST hitter in this series, and was THIRD in the batting race for this Tcba Season!
He will end up hitting .467 for this 7 game playoff series…starting every game at catcher!
He's exactly who Mimosa wants at the plate right now.
<![if !vml]>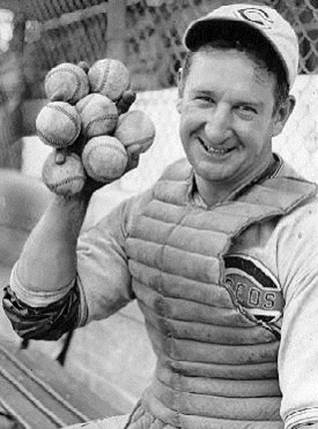 <![endif]>
Other than the fact that Ernie has a lot of balls……………
He's got a Big Bat to go with it!
(at least that's what Mrs Lombardi says…)
And he comes thru here for Mimosa and raps an rbi single up the middle!
5-3 Starrucca, with mimosa runners on 1st and 3rd.
Go ahead run is at the plate.
A groundout to shortstop scores another Mirthmaker run, making it 5-4 Starrucca, and Sundra retires the last batter to end the inning.
But Mimosa makes a BIG Comeback, closes the gap to 5-4, and every pitch and batter is important the rest of the way out.
Top 9……Jumbo Brown (19*) comes to the mound for Mimosa…..they want to hold Starrucca right here and do whatever they can in the bottom of the ninth to tie or win it.
Jumbo gets the first two Starrucca outs easily.
Then the wear and tear of his fourth game in relief starts to get to him a bit……
He WALKS the next two batters……………
And gives up a single to score a HUGE Starrucca insurance run……………….they are now up 6-4.
<![if !vml]>
<![endif]>
Hmmmm…..I wonder why they called him "Jumbo"?
Maybe he ate a lot of peanuts. J
Bot 9……………It all comes down to this for Mimosa……..
They need two runs to keep this thing going, and the grade 7* starrucca pitcher on the mound has 4 workable batters left.
If Mimosa can get some runners on, the grade 1 relievers on the Ainspans will be coming into play.
Bobby Doerr steps in…………………………….he flys out for one.
Mickey Haslin steps in…………………………he flys out for two.
Maggert steps in…………………….he gets less distance on it, and pops out to the infield!
Mimosa goes down 1-2-3 and just like that, its over.
With all of the comebacks and scoring threats thruout the series, somehow, I think we just expected a Mimosa runner or two to be on base and score a run or two. I know I did.
The 1-2-3 inning left me surprised, and without words.
(but I still got pictures) !
<![if !vml]>
<![endif]>
Sure we celebrated……..but we also have to tip our cap to the Mirthmakers in this one:
<![if !vml]>
<![endif]>
Starrucca had a GOOD team this season………………….
But Mimosa had a GREAT one!
Not only did they lead the league in wins by a large margin…….
But look at these last 7 playoff games:
<![if !supportLists]>- <![endif]>Starrucca came in fully rested, whereas Mimosa had to battle a good Kilkenny team to a full SEVEN games…..with an xtra inning battle in game 7! Their Ace starting pitcher had to toss THREE games in that one, rendering him a 1 start pitcher in the Starrucca Finals. That made a HUGE difference in our series.
<![if !supportLists]>- <![endif]>Game 3…the Mimosa starting pitcher (Dean 19z) had to wait out a rain delay and came back as an 11z. EIGHT points were taken away from him. A 19z is almost unhittable, an 11z was hittable to the extent that we then scored 8 runs off him in and won that ballgame. Without the rain delay, there's no way Mimosa loses that one.
<![if !supportLists]>- <![endif]>Game 4….The mimosa starting pitcher (grade 13z) doesn't get to throw even ONE pitch before he gets pulled into the trainers room and is injured for the rest of eternity. Mimosa needed to burn another pitchers start and 9 innings or relief to make up for that…..and they came out winners in this one.
<![if !supportLists]>- <![endif]>Game 7…..their defense made FIVE errors behind the pitchers in the ultimate showdown for the plaque. This was NOT what the Mimosa GM had envisioned, and he certainly didn't deserve that kind of play. It looked like Jerry Lewis back there trying to field a ground ball. J
Weigh that against the bad breaks suffered by the Ainspans….
<![if !supportLists]>- <![endif]>I had asked my wife to bring me a beer during the middle of game 2…….and she brought me apple cider instead. Damn.
That was it.
Nothing major happened to our detriment.
No injuries, no major outbreak of miscues, we were even fortunate in that the shipment of bras for the Ainspan ballgirls never arrived at the stadium, so the last two games were a pleasure to watch when we weren't busy playing ball.
<![if !vml]>
<![endif]>
So my point is:
Mimosa had ALL THIS stuff go against him, players being drastically reduced in grade, players being injured, ballgirls distracting them, etc, etc…………and they STILL had the depth, talent, and managerial skill to take this series right to the last inning of the last game of the 7 game series.
Without these flukey catastrophes, they would have made short work of the Ainspans, and it would have been a long bus ride back home with only some rotgut whiskey and the ballgirls to console us.
(okay, that wouldn't have been all that bad either)
It was a fun time, I'm glad Larry and I were able to split it up into a few different sessions, as it helped add to the drama a bit for us.
After viewing the final stats, I think it came down to ONE thing, statistically:
<![if !vml]>
<![endif]>
"The Walks, boss, the Walks!"
Although the overall stats show some similarities, such as we left the same amount of men on base, neither one of us had any legs to steal worth a crap, and we both scored the same amount of runs……………..
Mimosa's league leading pitching certainly stifled my hits, but we were able to show a lot of patience and chalk up a crapload of walks.
Mostly against Clay Bryant, whom in his two starts surrendered 14 of them……………..and we won both of those games.
Starrucca DID lead the league in walks, so this wasn't entirely unexpected…..but Bryant sure didn't need to carry a gas with him to the mound whenever he threw the ball.
Below, is the Mimosa pitching coach on one of his frequent visits to the mound to try and point Bryant in the right direction:
<![if !vml]>
<![endif]>……..it didn't work.
For those just looking at stats……………THAT was the difference maker this series.
To those who PLAYED the series……we know that the BREAKS of the game played another major part in this seasons Starrucca victory.
Its not so much that WE were lucky, but more so that the Mirthmakers were devoid of any luck whatsoever.
<![if !vml]>
<![endif]>(Larry, stay off the beach this weekend!) J
Now, on the BRIGHT side for Mimosa……………the series loss puts him right back into the Feeble Four and he now has a ¼ chance to land the Splendid Splinter!
Ted Williams is back on the Menu for Mimosa!
And it's a four course meal, being served from 1939 thru 1942!
<![if !vml]>
<![endif]>
Good Luck Larry!
You deserve it after this one!