Cleveland Naps – 1902-1920
Sacramento Solons – 1925-1962
Gerry Hobbs, GM
Franchise #12
History Brief: The Franchise #12 began play in Cleveland under the leadership of Gerry Hobbs. His Naps would represent a a successful franchise through the 1920 season. Taking time out to further develop his math skills, Hobbs sold the franchise in 1921 to Walter MacEachern. Baltimore's BaySox would only survive for four seasons. In 1925, math geek Gerry Hobbs calculated an opportunity, purchased the franchise, and moved it to Sacramento, where the team stayed until 1962. Thirty-seven years after originally selling the club, Walter MacEachern re-purchased the franchise from Hobbs and moved the team back to Baltimore to once again play as the BaySox. Always the quick-profit seeker, MacEachern sold the club five years later to Dave May, a former police officer in Niagara Falls. The league urged May to divest himself of the franchise after only one season, and he obliged with a quick transfer of ownership to educator and long-time league supporter, Jesse Elicker, who moved the team to Gettysburg. In 1975, the sums added up for Professor Hobbs, and he re-purchased his team, first settling in Potsdam and then moving to the present-day Raiders headquarters in Morgantown.
The Dapper Naps
<![if !vml]>
<![endif]>
The Solons
<![if !vml]>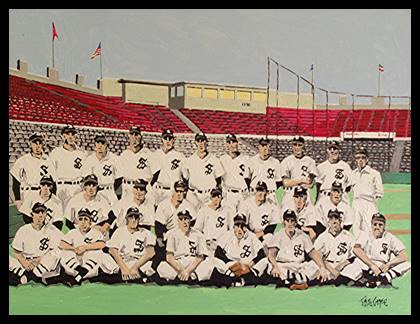 <![endif]>

League Champions
1903 1942 1946
Division Champions
1903 1907 1932 1939 1940
                 1942 1943 1946
                    1951 1952
            1955 - History Is Made
<![if !vml]>
<![endif]>
On Saturday, July 16, 1955, Player-manager Roy Hobbs starts a 4-4-3 Triple Play (against the Fortney Gators), the only Player-manager in recorded TCBA history to perform such a feat!
All-Time Record
·  All-Time Pitching Statistics
Team Season Records
Year

Won

Lost

Place

Division

Playoffs

1962

47

114

4

Brown

1961

43

106

4

Brown

1960

44

110

4

Brown

1959

60

94

4

Brown

1958

62

92

3

Brown

1957

83

70

2

Brown

1956

80

72

2

Brown

1955

98

56

2

Brown

1954

102

52

1

Gorney

DC

1953

90

64

2

Gorney

1952

96

58

1

Gorney

DC

1951

88

66

1

Gorney

DC

1950

59

95

3

Gorney

1949

68

86

4

Gorney

1948

63

91

4

Gorney

1947

59

95

4

Gorney

1946

109

45

1

Gorney

DC

LC

1945

85

69

2

Gorney

1944

83

71

2

Gorney

1943

94

60

1

Gorney

DC

1942

92

63

1

Gorney

DC

LC

1941

67

87

4

Gorney

1940

90

64

1

Gorney

DC

1939

93

61

1

Gorney

DC

1938

65

89

4

Gorney

1937

56

98

4

Gorney

1936

73

81

3

Gorney

1935

78

72

2

Gorney

1934

69

84

4

Gorney

1933

80

74

2

Brown

1932

95

59

1

Brown

DC

1931

73

79

2

Brown

1930

83

70

2

Brown

1929

41

112

4

Brown

1928

53

100

4

Brown

1927

51

102

4

Brown

1926

57

96

4

Brown

1925

73

81

2

Brown

1907

99

55

1

McCorkindale

DC

1906

59

97

4

McCorkindale

1905

84

70

4

McCorkindale

1904

86

68

2

McCorkindale

1903

100

52

1

McCorkindale

DC

LC

1902

47

107

4

McCorkindale